A Message from NCCDD Chair Alex McArthur and Executive Director Chris Egan: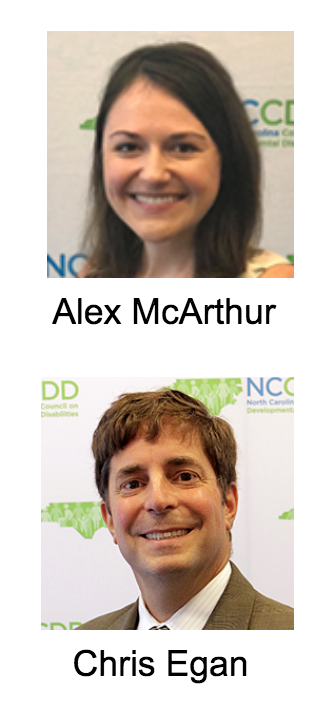 October is National Disability Employment Awareness Month (NDEAM), and one year ago, the NC Council on Developmental Disabilities launched the EveryBody Works campaign! EveryBody Works continues to bring attention to the untapped pool of talent found in the North Carolina disability community and promotes the capabilities of people with disabilities in the workforce, encourages diversity in hiring and aims to identify more pathways to employment through collaboration. Many are partnering with us in this campaign including Disability:IN North Carolina (formerly known as the North Carolina Business Leadership Network - NCBLN), North Carolina Vocational Rehabilitation (NCVR), NCWorks, and local Community Resource Providers, local Chambers of Commerce and others. Read more about EveryBody Works in this issue of Highlights and Hot Topics (HHT).
Employment leads to earning money and gaining more assets. As people start earning more, the next step is to establish savings accounts, and as such, we are working closely with the NC Department of the Treasurer along with the NC Department of Health and Human Services (NC DHHS) to share information about ABLE accounts. The importance of these accounts allow people with developmental disabilities to save money without risking important safety net benefits like SSI and Medicaid. We need to see more people opening these accounts, saving money and building a secure, financial future. You can get more information about ABLE and learn how to start saving money.
During National Disability Employment Awareness Month, we had the opportunity to celebrate Council member Bryan Dooley as he received the Stephen E. Sallee Assistive Technology Award of Excellence for his use of assistive technology in his work as well as in his everyday life. You can read all about Bryan and the devices he employs in this issue of HHT.
Another significant update this month is related to NC's continuing transition to Medicaid Managed Care to integrate behavioral health and other medical health supports. On October 24, NC Medicaid informed stakeholders that, "North Carolina received federal approval from the Centers for Medicare & Medicaid Services (CMS) of the amended 1115 Demonstration Waiver application that DHHS submitted last November. Receiving waiver approval is a major milestone toward implementing North Carolina's Medicaid Managed Care and moving the state's health care system toward further integration and coordination." To learn more about the Council's efforts to inform NC Medicaid's implementation of Medicaid Managed Care in North Carolina, read about the initiative with i2i Center for Integrative Health's work on the NCCDD Initiative – Cross-System Navigation in a Managed Care Environment.
We always appreciate hearing your thoughts or about events and even your ideas on what can make your community a more inclusive place for people with I/DD to live, work and play.
Alex McArthur Chris Egan
Chair Executive Director
LEGISLATIVE

The legislature is scheduled to re-convene on November 27, which is a continuation of the short session. There is not an agenda for this session yet, but the regular long session will begin in January 2019. As you are all aware, we are in the midst of elections, with early voting sites already open. With Election Day approaching, please exercise your right to vote. If you have any questions about voting, you can access information on this site developed by Disability Rights NC www.accessthevotenc.org

At our last Council meeting, we noted that there are six Constitutional Amendments on the ballot. Two of these are of concern to people with disabilities. They are:
• Cap Income Tax at 7% - Constitutional amendment to reduce the income tax rate in North Carolina to a maximum allowable rate of seven percent (7%). The current income tax rate in NC is 5.5% and the State already has a maximum of 10%. There is concern that this reduction could be a barrier to addressing unexpected events such as natural disasters and could result in budget items such as healthcare, state funded supports and education being at risk.
• Voter ID - "Voters offering to vote in person shall present photographic identification before voting. The General Assembly shall enact general laws governing the requirements of such photographic identification, which may include exceptions." There is not enough information to accurately assess the impact of this amendment. However, we do know that people with intellectual and developmental disabilities (I/DD) are less likely than people without disabilities to have an ID. Without more information about the type of IDs which will be required and a process for providing access to IDs for everyone, this amendment has the potential to limit the rights of voters with I/DD.
STATE
The Department of Health and Human Services (DHHS) continues to move forward with Medicaid Reform. The Requests for Proposals to manage the Standard Plans was released and proposals have been submitted. The DHHS will now review all proposals and announce their decisions in early February 2019. A total of eight companies and provider-led groups submitted proposals to manage the care of North Carolina's Medicaid patients. The eight interested groups are:
Aetna
AmeriHealth Caritas North Carolina
BSBSNC-Healthy Blue
Carolina Complete Health (provider-led group under the N.C. Medical Society)
My Health by Health Providers (provider-led network of 12 N.C. hospital systems)
Optima Health
UnitedHealth Care
WellCare Health Plans
There will be four statewide contracts awarded and a later, up to 12, regional contracts awarded. Only two Provider-Led Entities submitted, which is less than was expected. As we have discussed before, the Tailored Plans - which will include individuals with I/DD who currently receive services and supports or who are on the waitlist -will be implemented at least one year after the implementation of the Standard Plans. In the meantime, we will monitor the roll-out of the Standard Plans since there will be some people with I/DD who are in the Standard Plans.
Public Comment on Innovations Waiver
The North Carolina Department of Health and Human Services, NC Medicaid Division of Health Benefits is seeking the public's comments on the Innovations 1915(c) Waiver. Comments on the waiver may be submitted by email or voicemail from October 23, 2018 - November 22, 2018. The North Carolina Innovations Waiver is a means of funding services and supports for people with intellectual and other related developmental disabilities that are at risk for institutional care in an Intermediate Care Facility for Individuals with Intellectual Disabilities (ICF-IID). NC Innovations is authorized by a Medicaid Home and Community-Based Services (HCBS) Waiver granted by the Centers for Medicare and Medicaid Services (CMS) under Section 1915 (c) of the Social Security Act.

Email: IDDListeningSessions@dhhs.nc.gov

Phone: 919.855.4968

Note: Requests for copies of the Innovations 1915(c) Waiver can be made via email or voicemail.
FEDERAL
Budget & Appropriations
On September 28, President Trump signed into law a measure that funds the Departments of Labor, Health and Human Services, Education and Related Agencies (L-HHS-ED) for fiscal year (FY) 2019 that begins on October 1. The measure also includes funding for the Department of Defense and a continuing resolution for other federal agencies until December 7. The package had been approved by the House on September 26. Most programs that affect people with I/DD were level funded or received slight increases. Additionally, $300,000 was added to fund the Caregiving Advisory Council established under the RAISE Family Caregivers Act and $5 million was added to fund Care Corps, a network of volunteer caregivers. The House is expected to vote on the package this week. One thing not included in the L-HHS-ED Budget is the reauthorization of Money Follows the Person (MFP) which is essential to our efforts to move people with I/DD out of institutional settings. States are running out of funding as we wait on reauthorization. The House has acted on this through the Empower Care Act which would extend the program for five years and we are hoping the Senate will follow.
Tax Bills
On September 28, the House of Representatives approved a package of three tax bills, collectively referred to as "Tax Reform 2.0" by a vote of 220-191. The centerpiece of the package, H.R. 6760, makes permanent the individual tax cuts from last year's Tax Cuts and Jobs Act that are presently set to expire in 2025. The Tax Policy Center estimates that tax revenues would fall by $3.2 trillion over a 10-year period under H.R. 6760, on top of the $1.9 trillion that last year's tax law is already expected to cost. This is concerning since Tax Reform 2.0 sharply reduces federal revenue, extends tax cuts that primarily benefit wealthy individuals, and will create greater pressure to cut critical programs for people with disabilities. The Senate is not expected to take up the measure prior to the mid-term elections.
Social Security - Bill Introduced to Enhance Benefits for Widow(er)s with Disabilities
The Surviving Widow(er) Income Fair Treatment Act of 2018 (SWIFT Act; S. 3457) seeks to fix outdated and arbitrary Social Security benefit provisions for widow(er)s with disabilities and surviving divorced spouses. The bill would: allow widow(er)s and surviving divorced spouses with disabilities to receive 100% of the survivor benefit they are entitled to regardless of their age; give widow(er)s and surviving divorced spouses the ability to increase the value of their survivor benefits beyond current arbitrary caps; enable widow(er)s and surviving divorced spouses caring for children to receive child-in-care benefits until their children are age 18 or 19 if still in school; and require the federal government to proactively provide information to widow(er)s and surviving divorced spouses about benefits they are eligible for, claiming options, and important deadlines. This is a much-needed enhancement to Social Security benefits.
Social Security - SSA Announces Cost of Living Increases for 2019
The Social Security Administration (SSA) has announced a 2.8 percent cost-of-living adjustment (COLA) for Social Security and Supplemental Security Income (SSI) benefits in 2019. The Social Security Act provides for annual COLA increases based on inflation as measured by the Consumer Price Index for Urban Wage Earners and Clerical Workers (CPI-W). Because the CPI-W rose modestly over the last year, the 2019 COLA will increase benefits modestly. According to SSA, the average monthly Social Security benefit for a retired worker will increase by $39, from $1,422 in 2018 to $1,461 in 2019. The average monthly benefit for a Social Security disabled worker beneficiary will increase by $34, from $1,222 in 2018 to $1,234 in 2019. In addition, the SSI Federal Payment Standard will increase from $750 per month in 2018 to $771 per month in 2019. Important work incentive thresholds for Social Security and SSI beneficiaries with disabilities will also increase, including the Substantial Gainful Activity level and the Trial Work Period earnings level. View SSA's fact sheet for more details on the 2019 Social Security COLA.
Senate Approves FAA Reauthorization
On October 3, the Senate approved the Federal Aviation Administration (FAA) Reauthorization Act of 2018 by a vote of 93-6. This bill includes numerous provisions that benefit people with disabilities, including required training for Transportation Security Administration officers on working with passengers with disabilities, increased civil penalties for bodily harm to a passenger with a disability or damage to wheelchairs or other mobility aids, a new Advisory Committee on Air Travel Needs of Passengers with Disabilities, and a study of potential in-cabin wheelchair restraint systems that will allow passengers to remain in their wheelchairs during flight. The bill now heads to the President's desk.
Back@Home North Carolina: Hurricane Recovery
Earlier this month, Governor Roy Cooper announced the start of Back@Home North Carolina Carolina, a 12-million-dollar initiative to help families still in Hurricane Florence disaster shelters or staying in unsafe or unstable arrangements quickly transition to safe and sustainable longer-term housing.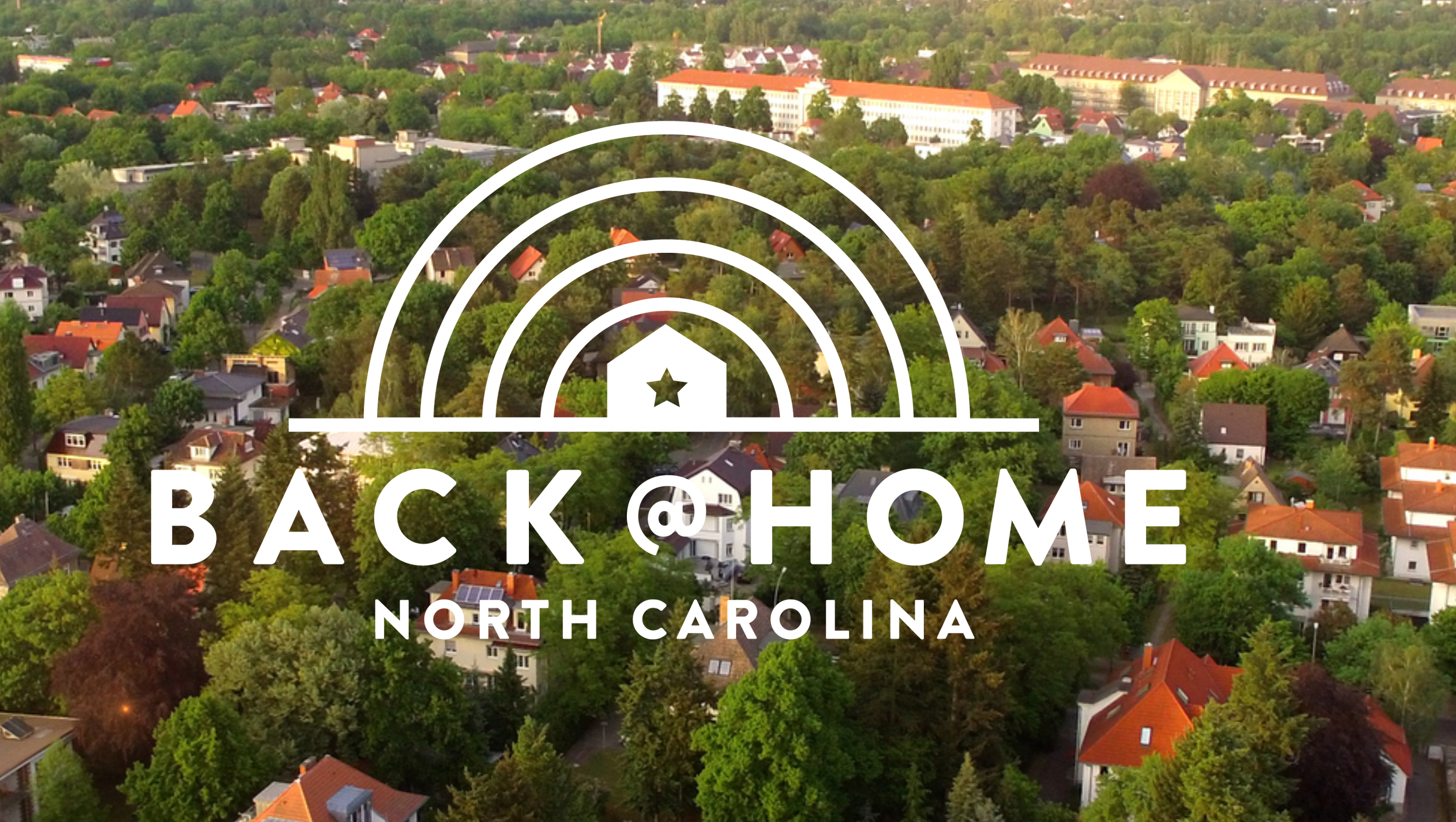 Following the announcement, Back@Home team members traveled to impacted areas of the state with Multi-Agency Shelter Transition teams to reach families and individuals quickly and help them find and secure stable housing options and other needed resources.

Back@Home is for individuals and families who are not eligible for Individual Assistance through the Federal Emergency Management Agency (FEMA) or who may be receiving limited FEMA assistance and still need help securing housing or other supportive services. Services include help finding housing, rent and utility assistance, move-in supplies, and, if needed, help accessing other resources like job training and placement and child care.

The program is administered by the NC Department of Health and Human Services in partnership with other state agencies, including the NC Housing Finance Agency, the Department of Public Safety and NC Emergency Management, as well as other nonprofits: North Carolina Coalition to End Homelessness, Socialserve, American Red Cross, Alliance Behavioral Healthcare, Eastpointe, First Fruit Ministries, Southeast Family Violence Center, Trillium Health Resources, and Volunteers of America.

Back@Home is an evidence-based, cost effective program modeled on an innovative program implemented in Texas after Hurricane Harvey in 2017. For more information, please visit www.backathome.org
One Year After Its Launch: EveryBody Works NC
The North Carolina Council on Developmental Disabilities (NCCDD) is celebrating the one-year anniversary of EveryBody Works North Carolina, an awareness campaign for the untapped pool of talent found in the North Carolina disability community and to create more jobs and job oriented educational opportunities.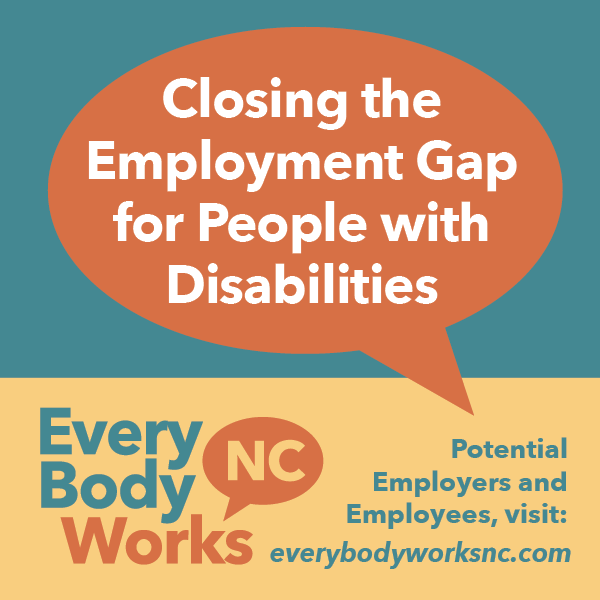 NCCDD launched its EveryBody Works NC campaign aiming to bring attention to and reduce the employment gap of working-age people with disabilities; educate the business community on the benefits of hiring people with disabilities; and show how the disability community is an untapped and valuable workforce. The campaign is in collaboration with the North Carolina Business Leadership Network (NCBLN) and North Carolina Vocational Rehabilitation (NCVR).

Additionally, the campaign educated self-advocates and their families about the value of employment and how to access employment, training and education programs to improve an individual's employability. This anniversary is celebrated during October's National Disability Employment Awareness Month (NDEAM), a national annual awareness campaign that takes place each year. EveryBody Works NC was launched in October 2017.

"NCCDD is proud to recognize National Disability Employment Awareness Month this year and celebrate EveryBody Works NC," said Chris Egan, NCCDD's executive director. "We have really increased the awareness of the talented workforce that is available across the State. Working closing with NC VR and DHHS Secretary Mandy Cohen's team has been essential to recognize, celebrate and promote the importance of achieving employment for individuals with intellectual or other developmental disabilities (I/DD)."

Additionally, NCCDD released their photographic employment lookbook, One Workforce: Inclusive Employment in North Carolina, in June 2018. The lookbook shares the stories and photographs of 30 different people with disabilities across the state, hard at work in their chosen employment fields.

The purpose of National Disability Employment Awareness Month is to educate about disability employment issues and celebrate the many and varied contributions of America's workers with disabilities. This year's theme is "America's Workforce: Empowering All." You can see Governor Roy Cooper's proclamation for this special month at http://bit.ly/2RaUGsz.
Council Member Bryan Dooley Receives Assistive Technology Award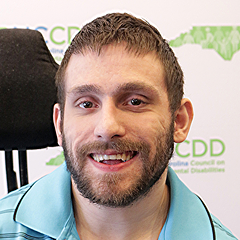 Bryan Dooley, a member of the North Carolina Council on Developmental Disabilities (NCCDD) received one of the Stephen E. Sallee Assistive Technology Awards of Excellence today. The award is sponsored by the Grant Advisory Council of the North Carolina Assistive Technology Program and was presented during the 2018 Assistive Technology Vendor Expo in Raleigh. The awards recognize North Carolinians who use assistive technology (AT) as well as supporters of AT.

Dooley, who has cerebral palsy, utilizes a literacy and learning program (Kurzwell 3000) to read the documents and emails on his computer. In addition, he has an assistive speech program to help him with everyday conversations as well as when giving presentations and speeches. His power wheelchair is vital in getting him to his appointments and meetings.

Besides his position on the NCCDD, Dooley is the current chair-elect for Disability Rights NC, the current acting chair for the NC Empowerment Network and is on the board for The Adaptables Center for Independent Living. He is also a longtime member of the NC Post-Secondary Education Alliance.

Dooley currently writes a blog for The Arc of North Carolina, gives seminars on disability rights and is also working to develop the NC Empowerment Network, North Carolina's newest self-advocacy group.

"Receiving this award is a major accomplishment for me for a couple of reasons. The very first self-advocacy reward I ever won had to do with my work encouraging people to use assistive technology. I won the 'Yes I Can' award in 2005, and made a trip to Salt Lake City, Utah to accept it. So it's interesting that I'm still receiving awards for my work around technology. Next, being a self-advocate seems to be a thankless job. Many of us travel to various locations throughout the state and country, and there is very little pay involved. But, we all do it because it's the right thing to do. So, it means a lot to me to be recognized," Dooley said.
Full Circle Capacity Building Initiative Community Conversations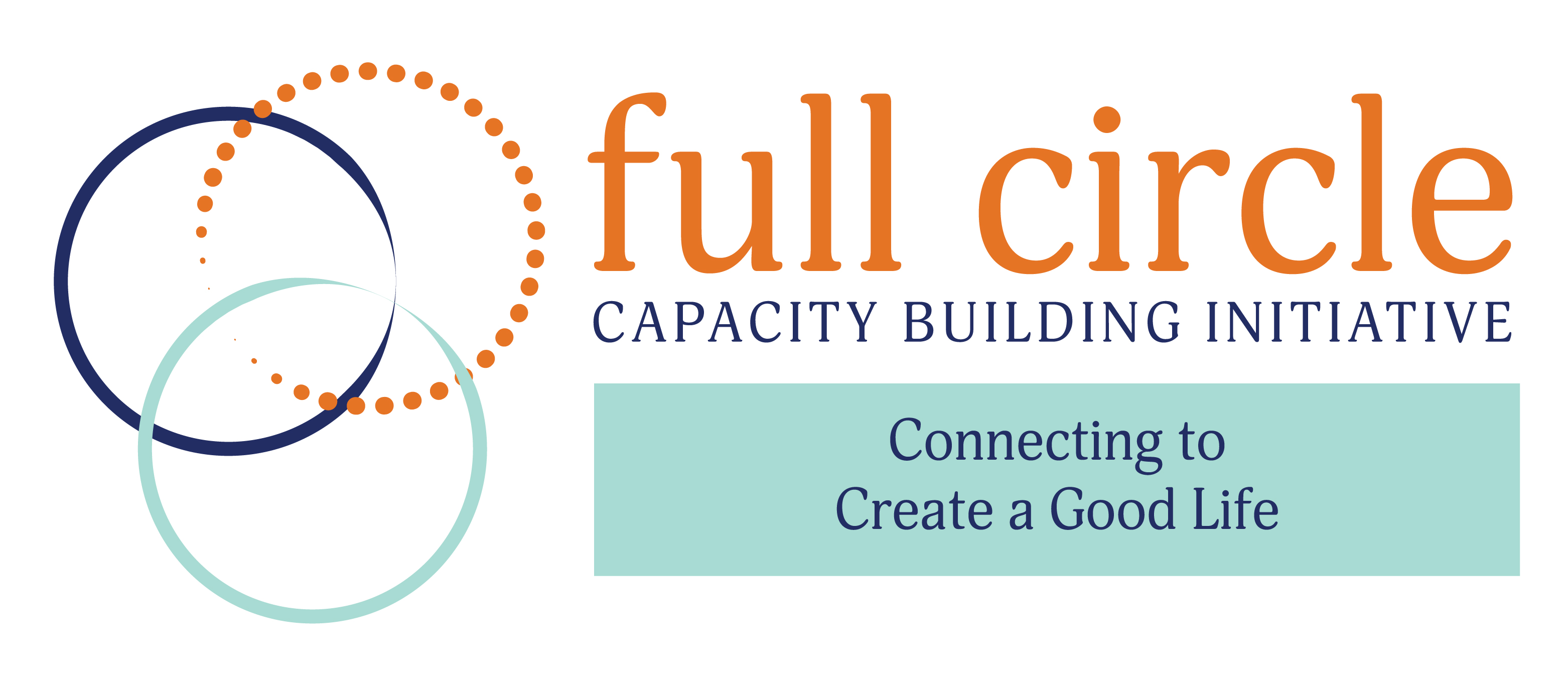 A new Initiative of the North Carolina Council of Developmental Disabilities (NCCDD) is aiming to increase community living for individuals with I/DD by increasing healthy community relationships.
Full Circle is a 24-month capacity building program that has been created by FIRST Resource Center to help individuals with disabilities expand their circles of connection and support in their communities, giving them more opportunities for meaningful and active relationships, more experiences, an overall sense of belonging, and a good, happy life.

Full Circle's program helps people with disabilities develop a Personal Network, which can do many things and serve many roles based on what the individual wants and needs, such as:
● Providing a sense of security and support for family members
● Providing links to others in the community
● Spending social time together
● Dreaming and planning together
● Securing and monitoring supports and services
● Assisting with finding homes and roommates
● Improved feelings of well-being and self-esteem
● Access to additional resources and activities
● Expanded "horizons"/life experiences
● Participation – engaging with others; being truly known
● Feeling the excitement of being part of a community group
● Opportunities to make new friends and develop new and varied relationships
Through Full Circle's online, self-paced program, in-person workshops and ongoing mentoring and support, loved ones and caregivers of individuals with disabilities will receive the tools and support they may need to develop relationships formed between network members and the individual. The network can provide support, advocacy, and companionship.
The Kick-Off Information Session and Community Conversation take place on:
November 14 – Christmount Conference Center, Black Mountain
November 16 – O'Berry Center, Goldsboro
For more information, sign up for updates and register for the Community Conversations at www.firstwnc.org/fullcircle or call 828.277.1315 ex 102.
2018 Disability:IN North Carolina Employer Awards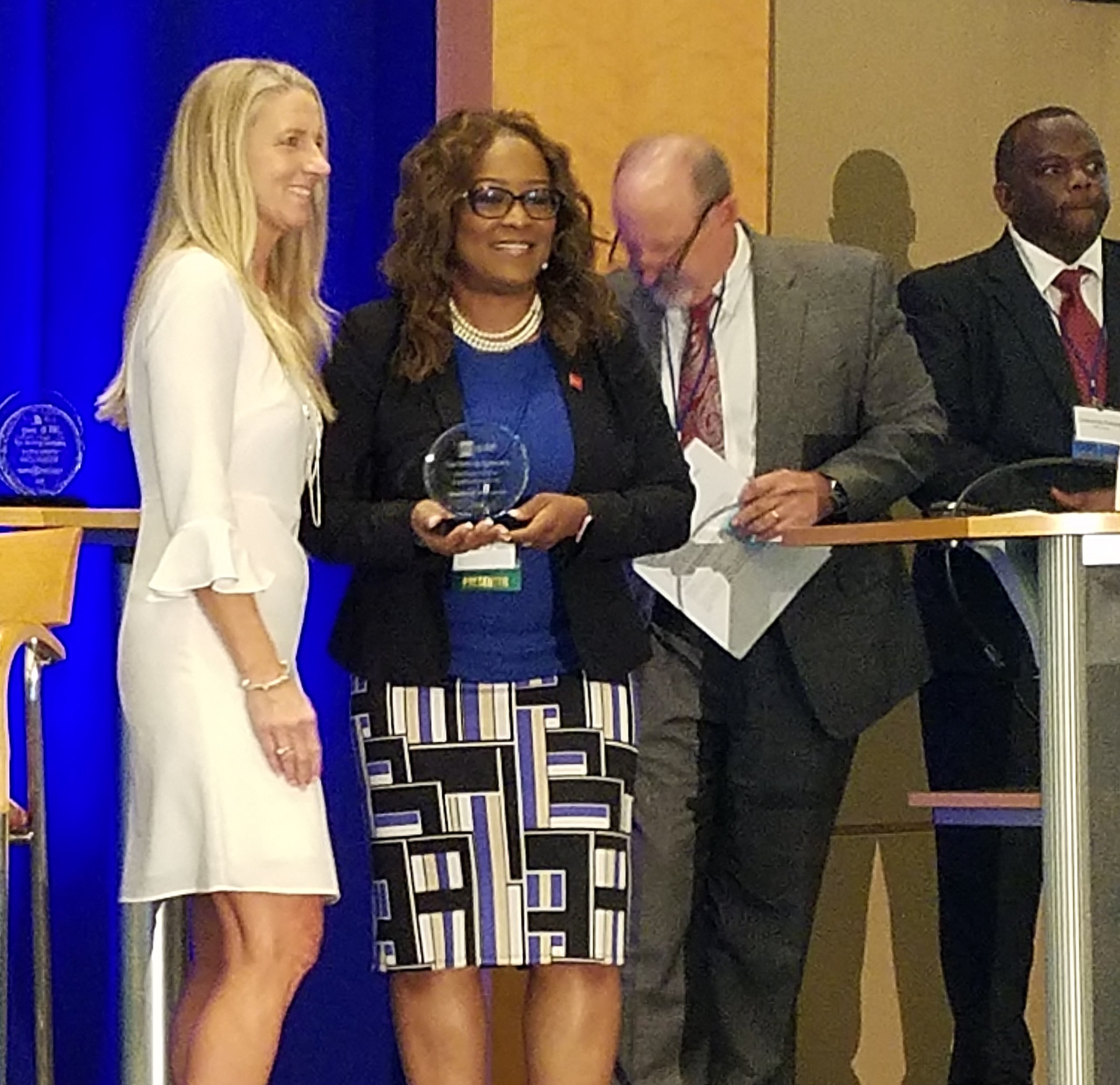 Julie Logan from Wells Fargo accepted the award from Disability:IN North Carolina.
On October 4, 2018, Disability:IN North Carolina (formerly NC Business Leadership Network) held its 2018 Fall Conference on the campus of TIAA's corporate offices in Charlotte, North Carolina.

Following the announcement of their new brand, Disability:IN celebrated NDEAM with the recognition of four North Carolina Employers who received top scores on the 2018 Disability Equality Index (DEI) and earns them the recognition from Disability:IN as among the "Best Places to Work for Disability."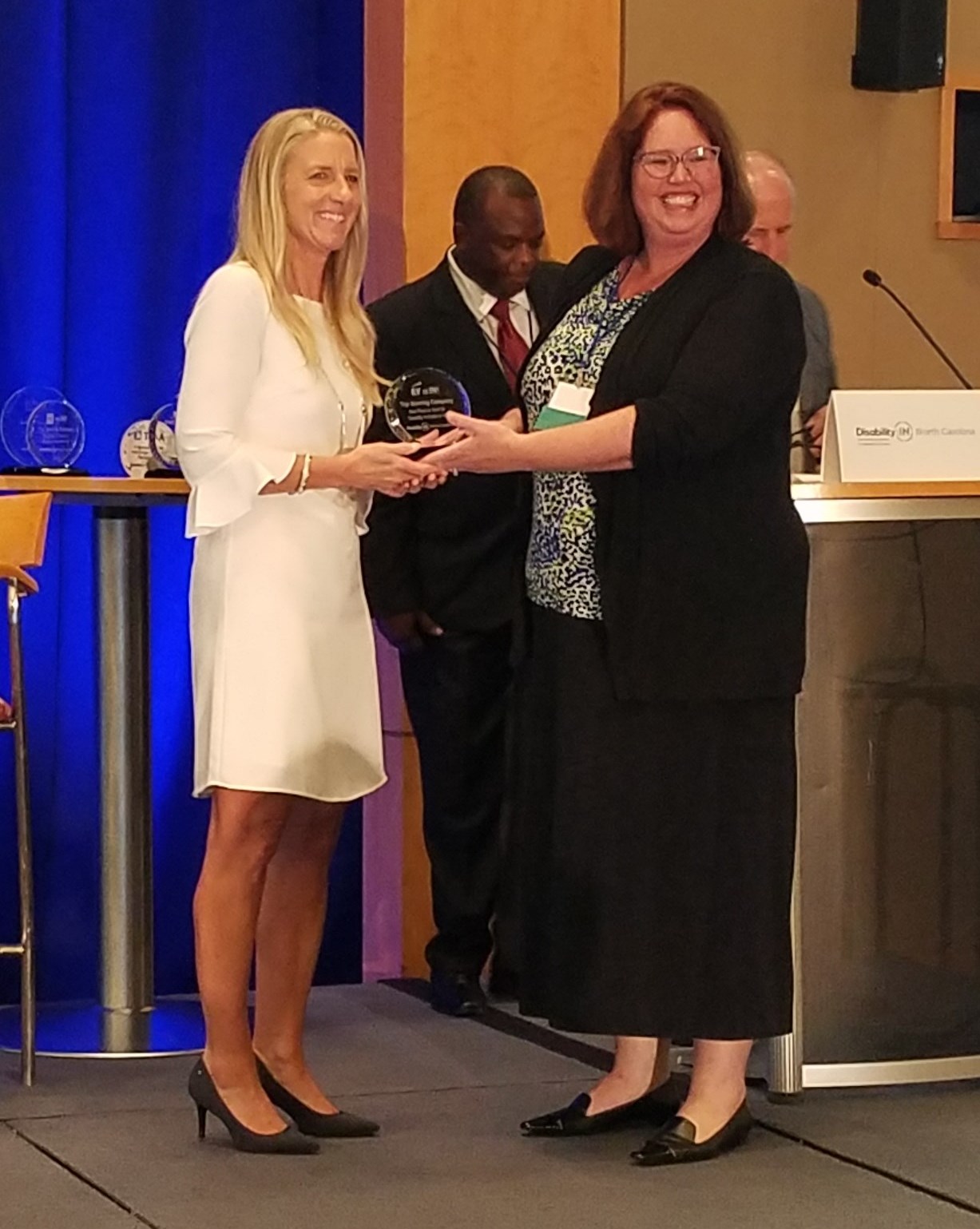 Amy Melvin of Ernst & Young receives award from Beth ButlerThe DEI is a comprehensive assessment tool jointly designed by business leaders and disability advocates. The DEI helps businesses analyze their environment, identify opportunities, and leverage disability inclusion as a competitive advantage. As a Top Scoring Company of the DEI AND a member of Disability:IN North Carolina, these Companies have demonstrated their commitment to invest in disability inclusion not only at the National level but at the Affiliate level, right here in NC! Making Disability Inclusion a top priority in these organizations is transforming their corporate cultures.
The 2018 Awards were presented by two members of the Disability:IN North Carolina Board of Directors, Dr. Tom Barth of UNC-Charlotte and Chauncy Barnhill of Wells Fargo.
Congratulations to the following Disability:IN North Carolina member companies and those who accepted the award:
1. Bank of America: Susan Barker, SVP GTO Campus Recruitment Manager
2. Ernst and Young: Amy Melvin, Project Manager
3. Pricewaterhouse Coopers: Robert Rusch, Tax Manager
4. Wells Fargo: Julie Logan, VP Business Initiatives Consultant