A Message from NCCDD Chair Alex McArthur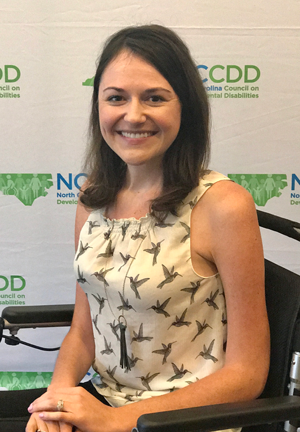 NCCDD Chairperson Alex McArthur
An effort 10 years in the making came to fruition when the North Carolina Council on Developmental Disabilities (NCCDD) witnessed Governor Roy Cooper sign an Executive Order declaring North Carolina as an "Employment First" state. For North Carolinians, this means that gainful employment in the general workforce is the first and preferred outcome of publicly-funded services for all citizens with disabilities - regardless of disability – in a job of their choosing with supports and accommodations to achieve and maintain employment.
The expectations of an Employment First state are to emphasize the importance of employment services focusing on skills and an individual's goals and contributions. It does not mean that employment is the only outcome for all; rather, that employment is the expectation, not the exception.
Congratulations, North Carolina, and hats off to those who worked hard to make us an Employment First State!
And this month, Governor Roy Cooper appointed new members to NCCDD, and we cannot wait to work with them as we keep moving forward towards achieving our Five Year Plan goals.
Keep reading about the great things happening at NCCDD and across the state for people with I/DD.
Alex McArthur, Chair

FEDERAL
Long-term Services and Supports Extensions
At the end of March, the U.S. House of Representatives approved the Medicaid Services Investment and Accountability Act of 2019 (H.R.1839), which adds an additional $20 million for the Money Follows the Person (MFP) program through Sept. 30, 2019. Days later, the Senate passed H.R.1839 on April 2. It now awaits the President's signature. Learn more information on how MFP supports North Carolinians with disabilities.
The Investment and Accountability Act does more than just extend MFP funding; it also prolongs Medicaid's spousal impoverishment protections for home and community-based services beneficiaries until September 30. This allows the spouse of a Medicaid long-term services and supports (LTSS) beneficiary to maintain a modest amount of income and resources for food, rent and medication.
UPDATE: On April 18, President Trump signed H.R. 1839 into law creating Public Law No: 116-16.
Respite Caregiving
On April 2, a bipartisan group of House and Senate members introduced the Lifespan Respite Care Reauthorization Act of 2019 (S.995/H.R.2035), which reauthorizes the Lifespan Respite Care Program through the fiscal year 2024. The Lifespan Respite Care Program uses federal dollars to fund state grants to build coordinated state lifespan respite systems, help family caregivers pay for respite or find funding sources, encourage the development of new and innovative community and faith-based respite opportunities and train respite workers and volunteers.
Education
On March 26, a bipartisan group of House and Senate members re-introduced S.866/H.R.1878 which would increase the Individuals with Disabilities Education Act (IDEA) spending over the next decade to bring the federal share of funding for special education up to 40%. That percentage of funding was committed when the law was first enacted in 1975 and has never been achieved. The federal government currently covers only 14% of IDEA costs.
Tax Policy
On March 18, a bipartisan group of House members reintroduced the ABLE Age Adjustment Act (H.R.1814). This bill amends the Stephen J. Beck, Jr. Achieving a Better Life Experience (ABLE) Act to increase the maximum age of onset limit from "before 26" to "before 46." NCCDD reported on the Senate companion bill, S.651 in last month's Highlights and Hot Topics.
Budget and Appropriations
At the end of March, the Senate budget committee released a draft budget resolution for fiscal year (FY) 2020. This draft would reduce the deficit by $538 billion over five years through cuts, primarily from mandatory spending (programs like Medicaid, Medicare and Social Security). On the House side, the Budget Committee reported out the Investing for People Act (H.R.2021) to raise defense and nondefense discretionary (NDD*) spending by $88 billion each in FY2020 and FY2021. If the House and Senate cannot agree on a spending package, NDD funding will be reduced by $55 billion (9%) compared to the current fiscal year due to spending caps created by the Budget Control Act of 2011. (*NDD programs include education, employment, housing, transportation, and DD Act programs like Councils, protection and advocacy programs, and university centers on disabilities among others.)
STATE
Legislative
The Legislative Long Session is well underway. Many bills have been drafted, and we are following those that affect people with I/DD. Below are a few that are active.
H70, Delay NC Health Connex for Certain Providers: NC Health Connex is the Health Information Exchange (HIE) for North Carolina electronic health records data. The state is meeting federal requirements by implementing the HIE. This bill would delay mandatory participation until June 1, 2021, a one-year extension of previously legislated deadlines, for certain providers, including BH/IDD providers. The bill would also allow Innovations and other I/DD providers to voluntarily participate in the HIE connectivity and electronic health record data transmission. The bill would also allow NC DHHS to grant an exemption from the HIE participation for qualifying providers, including small providers, on a case-by-case basis when it would impose an undue hardship. This is important to keeping a robust provider network for people with I/DD.
H75, School Mental Health Screening Study: NC DHHS and the Department of Public Instruction (DPI) are required to conduct a study to see whether the State should require a mental health screen to identify school-aged children at risk of harming themselves or others. The report findings are due by February 15, 2020. Further, NC DHHS and DPI will make recommendations on the type of screening, who may conduct the screening, the behaviors and diagnoses that flag the need for screening, confidentiality issues and a procedure for parents to opt into the screening. This is an important study before legislative action to ensure that students with I/DD are appropriately assessed and are not disproportionately affected by the screening.
H471, Reduce Admin. Duplication MH/DD/SAS Providers: This bill would establish a workgroup to examine and make recommendations about how to eliminate administrative duplication for mental health, I/DD and substance use disorder providers. The goal is to integrate existing requirements for MH/DD/SAS with similar administrative requirements for physical health providers in order to avoid duplication and enhance efficiency. This is important as we move into integrated care.
S550, Supplemental Assistance for Group Homes/Funds: This bill appropriates funds to the DHHS, Division of MH/DD/SAS to provide supplemental assistance for group homes. This bill's intent is to address an issue that began several years ago when individuals who were eligible for Medicaid-covered personal care services (PCS) prior to January 1, 2013, became ineligible for PCS on or after January 1, 2013, due to Medicaid State Plan changes in PCS eligibility criteria.
S556, GSC People First Language 2019: This bill updates statutes relating to the provision of services with People First language by changing the phrase "mental retardation" to "intellectual disability" or "intellectual or other developmental disability" and to make further people first language, technical and clarifying amendments in those statutes, as recommended by the general statutes commission. This is the final step that follows recommendations from the General Statutes Commission (GSC). A bill was introduced last year, but it did not move and was referred to GSC. This bill implements its recommendations.
H655, NC Health Care for Working Families: This bill would provide health coverage to North Carolinians under the NC Health Care for Working Families Program and to establish the North Carolina Rural Access to Healthcare grant program. This bill will fill the gap in health coverage for people who are below 133% of the federal poverty level.
We will continue to monitor these and other bills. The general rule is that every bill that does not include an appropriation must pass at least one of the houses of the General Assembly by May 9 to remain active for consideration. This is called the Crossover Deadline. Once a bill does meet crossover, it can remain active throughout the long and short sessions of the biennium. The budget will begin with the House, which has a goal of passing its budget by late April. It will then move the Senate and most likely to a conference committee.
Medicaid Transformation
North Carolina will launch specialized managed care plans called BH I/DD Tailored Plans starting in 2021. These plans are designed for those with significant behavioral health (BH) needs and intellectual/developmental disabilities (I/DDs). BH I/DD Tailored Plans will also serve other special populations, including Innovations and Traumatic Brain Injury (TBI) waiver enrollees and waitlist members. On March 18, 2019, DHHS released a final policy guidance paper on specifics of Tailored Plan eligibility criteria, enrollment processes and transitions between Standard Plans and Tailored Plans.
Eligibility:
Enrolled in the Innovations Waiver;
Enrolled in the TBI Waiver;
Enrolled in the Transitions to Community Living Initiative (TCLI);
On the waiting list for the Innovations Waiver;
On the waiting list for the TBI Waiver;
Have used a Medicaid service that will only be available through a Behavioral Health I/DD Tailored Plan (See Section VI for additional detail on these services);
Have used behavioral health, I/DD or TBI service funded with state, local, federal or other non-Medicaid funds;
Children with complex needs, as that term is defined in the 2016 settlement agreement between the Department and Disability Rights of North Carolina;
Have a qualifying I/DD diagnosis code.
A couple of other key points:
DHHS recognizes that there will be individuals who will benefit from BH I/DD Tailored Plan enrollment who will not be identified by the available data. The Department is developing a process where new Medicaid beneficiaries and Standard Plan beneficiaries can request a review to determine whether they are eligible to enroll in a BH I/DD Tailored Plan.
Beneficiaries identified through the Department's analysis prior to open enrollment for Standard Plans will continue to receive physical health services and pharmacy through Medicaid Fee for Service and behavioral health, I/DD and TBI services through Local Management Entities-Managed Care Organizations (LME-MCOs) until the BH I/DD Tailored Plan launch.
Learn more about the Tailored Plans
Developmental Disabilities Awareness Month Accessible Icon Painting Event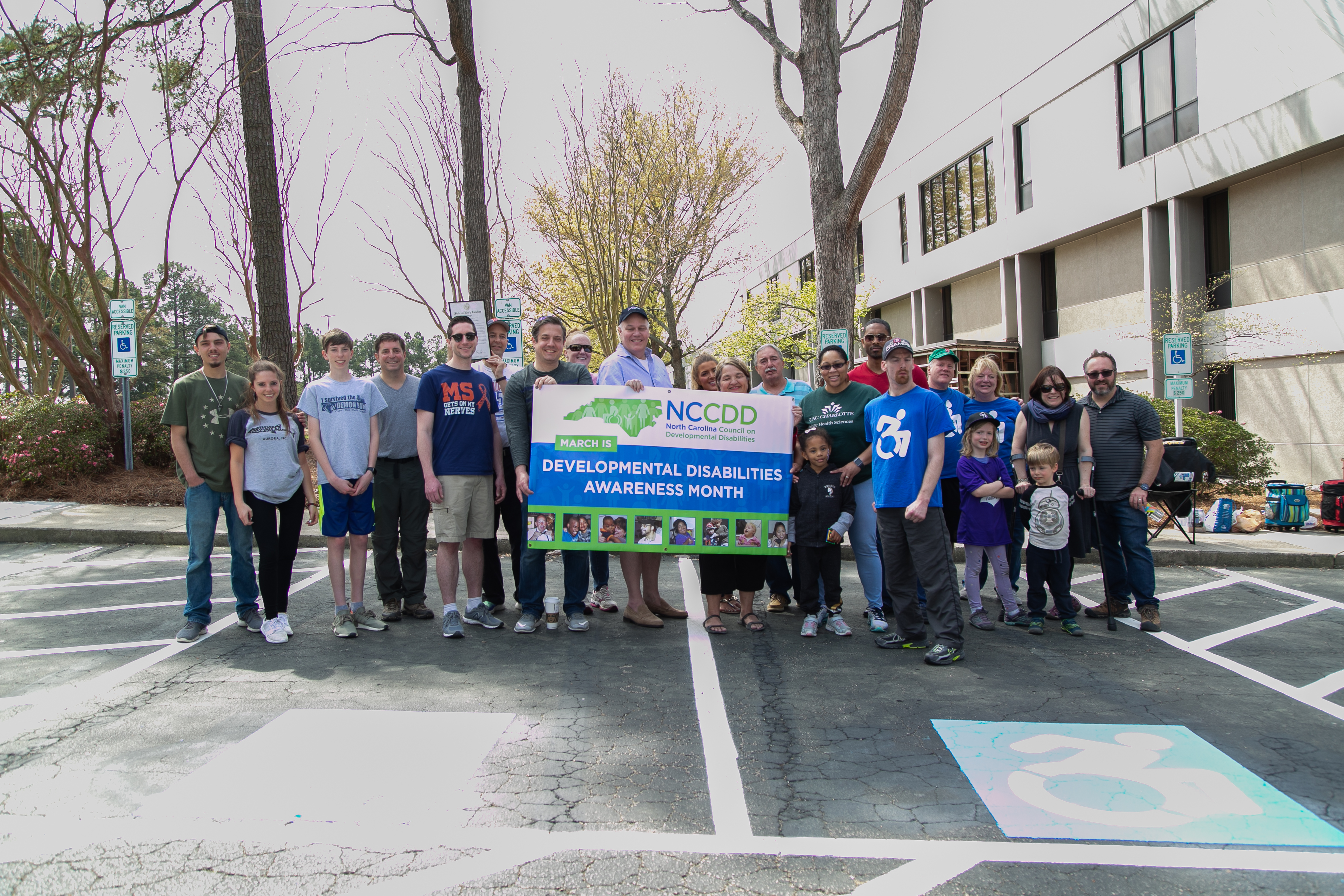 People celebrated DD Awareness Month at NCCDD offices as they painted the Accessible Icon on the accessible parking spaces.On Saturday, March 30, approximately 25 people gathered outside of NCCDD's office to celebrate Developmental Disabilities Awareness Month by painting the new Accessible Icon in six accessible parking spaces at the building. Council member Brendon Hildreth and his parents, Darcy and Tim, led the event.
Brendon and his family regularly paint the new Accessible Icon in their hometown of New Bern as well as in other parts of North Carolina as a way to show "advocacy in action." The most spaces they have painted in one day is 12, and on March 30, the group doubled that number by painting 25 total spaces.
Painting volunteers included former NCCDD Executive Director Chris Egan and his children, DHHS Deputy Secretary for Health Services Mark Benton and his family, DHHS Health Services Chief of Staff Matthew Herr and NCCDD staff. City of Raleigh Human Relations Commission Executive Director Dr. Audrea Caesar also joined with her family.
After finishing at NCCDD's office, part of the group continued to work through the afternoon painting accessible parking spaces on the Dorothea Dix campus at the Adams Building, the Haywood Building and at the McBryde Building.
Watch the news special on Spectrum News below:
North Carolina Becomes an Employment First State
Governor Roy Cooper officially declared North Carolina as an Employment First State through the signing of an Executive Order on March 28 in Kernersville, NC at the Piedmont Triad Regional Council.
Governor Roy Cooper signs the Employment First Executive Order."Employment First" refers to the belief that employment in the general workforce should be the first and preferred option for individuals with disabilities.
The principles of Employment First include working in integrated settings and earning competitive wages and benefits; securing employment with reasonable and appropriate placement and support; employees with and without disabilities are equally valued and that jobs should match an individual's work skills, abilities and career choices to the greatest extent possible.
This effort has been 10 years in the making. The collective impact of state and federal agencies like NC Vocational Rehabilitation, the NC Division of MH/DD/SAS, Office of Disability Employment Policy, including NCCDD; nonprofit organizations like Association of People Supporting Employment First; and many community advocates have brought this milestone for people with disabilities and employment in NC.
"This is a very exciting moment for the disability community," said Alexandra McArthur, chairperson of NCCDD. "Employment offers a rewarding sense of purpose, high expectations and an ability to contribute to society. People with disabilities are talented, capable and ready to work - and we are excited to see the State of North Carolina support this effort."
This announcement comes on the heels of many employment initiatives that have begun across the State to increase employment outcomes for under-served and unserved communities.
In 2017, the NC Job Ready Initiative better aligned public sector resources with the evolving needs of businesses; and the Hometown Strong Initiative in 2018 bolstered existing public-private efforts to expand employment opportunities to all North Carolinians. NCCDD launched EveryBody Works North Carolina to increase awareness of the skills and expertise of North Carolinians with disabilities.
Governor Roy Cooper Appoints Four New Council Members
North Carolina Governor Roy Cooper has appointed the following individuals to serve on NCCDD:
State Senator Mujtaba Mohammed (District 38)
Sherry Thomas, Director, Exceptional Children Division, Department of Public Instruction
Virginia Knowlton Marcus, Executive Director, Disability Rights NC
Chris Egan, Senior Director, Division of Vocational Rehabilitation, North Carolina Department of Health and Human Services
The new Council members join the 40-person organization that works collaboratively, across the State, to assure that people with intellectual and other developmental disabilities (I/DD) and their families participate in the design of and have access to needed community services, individualized supports and other forms of assistance that promote self-determination, independence, productivity and inclusion in all areas of community life.
En Español- Abril 2019 - Aspectos destacados y Temas de interés