October is National Disability Employment Awareness Month, and one of the many goals of NCCDD is to continue increasing avenues for employment for people with disabilities. Chris Egan, Senior Director, North Carolina Department of Health and Human Services (and former NCCDD Executive Director), sat down with us to discuss North Carolina's employment for people with disabilities and the impact that COVID-19 is having on jobs.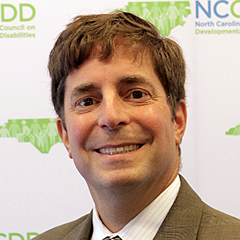 NCCDD: What is the state of employment for people with disabilities during this time of COVID-19?
CHRIS EGAN: As we have all experienced, the onset of COVID-19 resulted in the need to implement a series of important protections for all citizens by promoting use of face coverings over the mouth and nose (Wear), distancing from each other by at least six feet (Wait) and frequent washing of hands for at least 20 seconds (Wash). Safely preventing the spread of this virus also meant the need for businesses to implement difficult but important steps to reduce the number of customers and employees in the same space for extended periods of time leading to furloughs and layoffs.
To put it in perspective, last February 2020, North Carolina had been holding steady with a low overall unemployment rate of under four percent and this was a positive factor in our efforts to promote employment for people with disabilities. Low unemployment has created more opportunity for people with disabilities to find and secure competitive integrated employment and we are seeing the business community become more and more open and interested in the benefits of diversifying the workforce. As occurred across the nation, because of COVID the rate of unemployment rose and peaked nationwide at over 14 percent and North Carolina remained just lower at 12.9 percent. Since the peak in April and May there has been a steady decline in the rate of unemployment with the August seasonally adjusted rate hovering at 6.5 percent (nearly two points better than the nationwide average).
To the question on employment among people with disabilities, even under the best of times the rate of employment is much lower. For example, according to the Current Population Study (CPS), in 2019, only about a third of people with a disability, ages 16-64, were participating in the labor force, and among those in the job market the unemployment rate was eight percent. Comparatively, for people without a disability in the same age group, better than three of four were participating in the labor force and the unemployment rate was less than four percent.
In times of high unemployment, such as with COVID-19, the employment gap for people with a disability widens. The September 2020 CPS shows that, although labor force participation was about the same as it was the prior year, the unemployment rate among those ages 16-64 had increased to 13.4 percent for people with disabilities and 7.5 percent for those without.
NCCDD: What challenges and adjustments in employment are you seeing now due to COVID?
CHRIS EGAN: We're seeing the same challenges and trends that occur nationally within our North Carolina Vocational Rehabilitation (VR) programs. The number of job placements for March through September 2020 is half that for the same period in 2019 (1,751 job placements in 2020 compared to 3,515 in 2019). We're also seeing a decrease in new referrals: VR applications are down about 42% (6,062 for March through September 2020 compared to 10,473 for the same period last year).
Through all of this, the Division of Vocational Rehabilitation Services and the Division of Services for the Blind made great efforts to quickly shift employees to telework in order to keep serving individuals with disabilities. Efforts have also occurred to create greater flexibility for providers and to address rates where we can to keep efforts going to serve individuals.
NCCDD: North Carolina became an Employment First state in 2019. What is the state of the work on Employment First? Any specific accomplishments or adjustments due to the virus?
CHRIS EGAN: Employment First is a national movement that recognizes that all citizens, including individuals with significant disabilities, are capable of full participation in integrated employment and community life. Some the current and continued success in North Carolina includes:
A new Office of State Human Resources self-disclosure tool allowing state employees to share their disability status to help the state be a model employer of persons with disabilities.
Ongoing disability awareness training called Windmills, which is now being offered virtually to equip business leaders with the knowledge, skills and tools to create an inclusive workplace where all employees have the opportunity to thrive.
Updates to the state employment application for greater accessibility.
A fully inclusive State Government Career Expo hosted by the Office of State Human Resources with support from the Department of Health and Human Services that was hosted this past September.
And most recently, North Carolina was awarded the Office of Disability Employment Policy (ODEP)/ECON-SYS Technical Assistance Grant to assist with the Employment First effort in our state.
NCCDD: Do you see any permanent changes happening in employment as a result of adapting to living in the time of the virus?
CHRIS EGAN: It is too soon to tell about the range of changes but at this time, use of virtual means for certain jobs to work from remote locations will likely continue in some fashion.
NCCDD: What are your high-level expectations for employment for people with disabilities down the road?
CHRIS EGAN: I fully expect North Carolina to rebound and we are seeing this trend now leading to a return to low overall unemployment and I am very optimistic that we will impact the rate of unemployment and underemployment of people with disabilities. We must move the needle on this – employment is transformative for the individual with a disability and their employer.