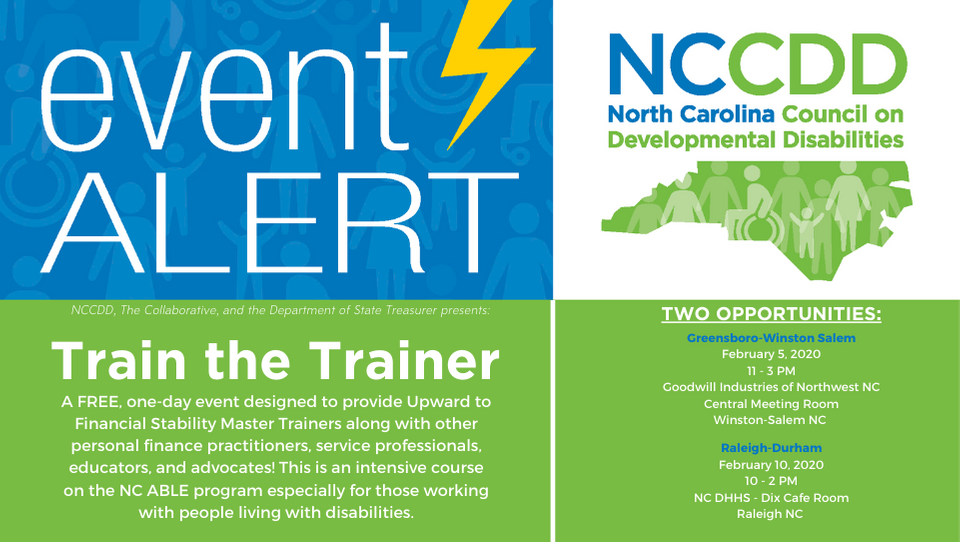 The Collaborative, NC Council on Developmental Disabilities, and the Department of State Treasurer invites you to the NC ABLE train-the-trainer event in the Triangle and Triad. This one-day training event is designed to provide Upward to Financial Stability Master Trainers along with other personal finance practitioners, service professionals, educators, and advocates – especially those working with people living with disabilities. This intensive course on the NC ABLE program will provide lunch and a $10 stipend.
All practitioners who provide financial counseling and support services are encourage to participate in this event. You will be able to:
Learn: Get the tools you need to be able to efficiently and effectively help people with disabilities.
Meet: Get to know other service providers and trainers in your area.
Share: After attending, you will be able to lead an ABLE training at your organization!
There will be two opportunities to receive this training:
Greensboro-Winston Salem
February 5, 2020
11 – 3 P.M.
Goodwill Industries of Northwest NC - Central Meeting Room
2701 University Parkway, Winston-Salem, NC 27105
Register here
Raleigh-Durham
February 10, 2020
10 – 2 P.M.
North Carolina Department of Health and Human Services – Dix Café Room
1101 Cafeteria Lane, Raleigh, NC 27603
Register here
For accessibility accommodations or to inform us of any dietary restrictions, please include within your registration for the one-day training registration link.