My ADA Story: Making Statesville More Accessible to All

By David Taylor, Jr., former NCCDD Council member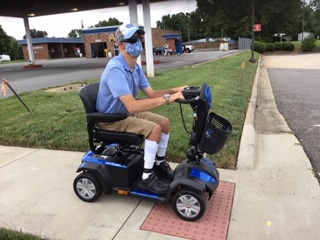 David Taylor, Jr. prepares to cross a street at a curb cut in the sidewalk
My story is interesting. I went to the Statesville City Council to talk about curb cuts, and, at the very first meeting, the "accessible" restroom had no grab bars...no one checked the work done 3 months before. In addition, the electric door did not work and had not for months, so, when they knew I was coming, they had a cop open door for me. The parking lot had an "accessible" parking space, but, if you unload your wheelchair from the rear, you are in the driveway to get killed. When you roll to get to sidewalk, you have a 2-inch-plus jump to get on sidewalk to ramp. This was just to get in the building.
Where I live there are NO curb cuts, NO crosswalks with lines, NO lights to cross the road, NO signals, and NO people with disabilities or Hard of Hearing warning signs. I live a block from a 4-lane road, and that 4-lane road goes from Starbucks, doctor's offices, a mall, McDonalds, Taco Bell, Dunkin' Donuts, Wendy's, Papa John's, a BI-LO grocery store, and a strip mall of restaurants. The other side has Walgreens and banks and a strip mall with Food Lion, Kmart, Bojangles', dry cleaners, and many banks. In a scooter or an electric wheelchair, you can go nowhere because lack of accessibility. The city staff came to look and told me to ride in the road because the sidewalk was not accessible. They were wearing safety vests and were scared to cross the street. There were no lines or anything to cross the street – just go and hope for the best. They also told me how to go in the exit of a bank to go out the side of bank and cross the street to Food Lion and Kmart. That was not safe! This is all within 4 blocks that are very busy!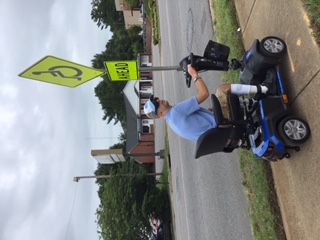 David Taylor, Jr. with Accessible Crossing SignI started asking for ADA curb cuts, crosswalks, lines, lights with signals, signs, etc. at Easter about 2 years ago. I went to every City Council meeting until December, when inclement weather prevented me from going. This is an area that has 5 apartment complexes, 3 churches, 2 nursing homes, and 3 group homes. I watch people nearly get killed, and now I was going to do something. Sidewalks are hit and miss, and, from side to side, nothing matches. In less than 6 months, I had asked for 12 curb cuts plus the rest of the things needed, and, by spring, they installed 12 curb cuts plus 3 I did not ask for, so I saw a total of 15 curb cuts BUT nothing else! It was like a half-baked cake, I told the City Council.
I thanked the City Council and said, "Very nice. Now finish the job!" The next thing they did were to install lights at BI-LO, but they did not install more in the major areas! Then 6 months later, we got a crosswalk stripe and lights that did not work. Three months later we got lights that worked, and you cross with traffic, which is not safe. The first lights did not stop traffic – they just operated on a timer, and then traffic goes with the lights. It still does not stop traffic, and, on right turn at the light, that does not stop traffic either.
Hey, people with disabilities still end up riding down middle of road since there is no accessibility. So, I just keep working! Now there are more curb cuts and some lights! I asked for people with disabilities and Hard of Hearing warning signs, and a year later the people with disabilities signs were in the wrong place with no Hard of Hearing signs, but I kept plugging along. Everyone is amazed I got this much done ALL BY MYSELF!! I kept plugging along, and I became one of the few ADA certified Coordinators with a developmental disability in the United States. I won't stop until it is finished.
During this time, I am also working on fixing accessible parking mistakes and on making voting more accessible for persons with disabilities. I won't stop until it is all DONE!!
BI-LO and the banks are working hard to make a difference for others.
Celebrating the 30th Anniversary of the ADA