A Message from NCCDD Chair Alex McArthur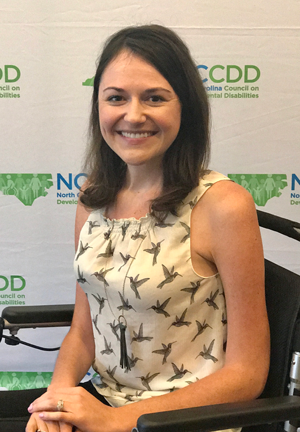 NCCDD Chairperson Alex McArthur
February is Black History month. 5.6 million African Americans in the United States live with a disability, and yet too often disability advocacy is not inclusive.
The impact of people of color with disabilities, while not always recognized, is an integral part of disability history and present-day impact. From the early 1800s, Harriet Tubman, a former slave who became an abolitionist and helped many escape slavery, suffered a traumatic brain injury as a 12-year-old. To Johnnie Lacy, a woman who helped to build and lead the Independent Living movement in California in the 1970's. To Claudia Gordon, the first African American deaf lawyer to graduate law school, who served as a key advisor to former President Barack Obama.
The list goes on and includes Stephen Wiltshire, who was diagnosed at age three with autism. He developed incredible drawing skills to communicate and today has his own gallery in London. The first African American governor of New York, David Paterson (2008-2010), is blind. Curtis Pride, who played baseball for New York Mets, the Montreal Expos and various other Major League teams, is deaf.
Despite these achievements by African Americans with disabilities, the double marginalization of disability and race remains harmful and systemic. The unemployment rate for African Americans with disabilities is roughly 13%, as compared to 8% for white Americans with disabilities. According to the National Disability Institute, "nearly 40% of African Americans with disabilities live in poverty (as compared to 27% of all individuals with disabilities and 12% of all working-age adults without disabilities)".
Black History Month is an opportunity to spotlight and celebrate the contributions of African Americans with disabilities -- not just in February, but throughout the year. It is also an opportunity to reaffirm NCCDD's commitment to working towards disability justice with a focus on racial and economic equity, recognizing the unique ways disability and race interact.
We hope you'll join us in the sentiment shared by Heather Watkins, writer and mom who has a disability: "Black disability history is part of Black history which is American history."
Alex McArthur
Chairperson

FEDERAL
Budget and Appropriations
President Trump signed a continuing resolution (CR) which fully funded agencies previously impacted by the government shutdown including Agriculture, Housing and Urban Development, the Department of Justice and Transportation through the end of fiscal year 2019. Discussions are already underway for 2020 funding, the first fiscal year that will be impacted by tax cuts passed in December 2018.
North Carolina's Congressional Delegation
Representative Walter Jones (NC-3) passed away on February 10. Serving for nearly 25 years, Jones was known for voting independently, strong relationships across party lines, and personally reaching out to his constituents. A special election will need to be called by the Governor, beginning with primary elections of each party.
Last week, after considering several days of testimony centered on mail-in ballot tampering, the North Carolina State Board of Elections unanimously called for a new election to be held in North Carolina's 9th Congregational District. Legislation passed by the NC General Assembly in December of 2018 requires a new primary election as well, leaving 9th district constituents without representation for several more months.
The U.S. Supreme Court announced it will hear two unresolved state cases (North Carolina and Maryland) regarding how Congressional district maps are drawn. This could impact 2020 elections in our state.
Money Follows the Person (MFP)
In late January, President Trump signed a 3-month extension to this very successful federally-funded state grant program focused on transitioning individuals with disabilities from institutional settings into the community. We anticipate seeing future legislation designed to fund the program for several years. Learn more about MFP in North Carolina here.
Community Living:
In mid-January, the Disability Integration Act (H.R.555, S.117) was reintroduced by Representative Sensenbrenner (R-WI) and Senator Chuck Schumer (D-NY). The legislation would require states to offer community-based living options for individuals who qualify for Medicaid long-term services and supports. It would also require states to address the need for affordable housing.
Employment Legislation:
Senator Casey (D-PA) introduced two employment bills in late January. The Transformation to Competitive Employment Act (S. 260) will phase out 14(c) subminimum wage certificates (which allow qualified employers to pay individuals with disabilities less the minimum wage often in sheltered workshop-type settings) over six years while at the same time provide grant funding and technical assistance to help states and businesses transition. The Disability Employment Incentives Act (S.255) aims to increase three tax credits designed to help employers hire and retain individuals with disabilities including hiring individuals receiving SSI and SSDI, funding access expenditures, and architectural and transportation barrier removal.
Education:
S.5 would provide a federal tax credit for private school education. H.R. 69, introduced on the same day in early January, would allow parents to take federal funding (Elementary and Secondary Education Act Title I) for public schools to a public or private school of their choice. Note, these bills would not maintain accountability and civil rights protections currently afforded to students with disabilities.
Autism CARES
In early February, Senators Menendez (D-NJ) and Enzi (R-WY) and Representatives Smith (R-NJ) and Doyle (D-PA) introduced the Autism Collaboration, Accountability, Research, Education, and Support (CARES) Act of 2019 (S.427, H.R.1058). This reauthorization legislation funds autism research, surveillance, and education programs.
Social Security Legislation
The Surviving Window(er) Income Fair Treatment Act of 2019 (SWIFT Act, S.345), introduced by a number of Senate Democrats, aims to update provisions and increase benefits for widow(er)s or surviving divorced spouses with disabilities. Find detailed information here.
STATE
Legislative
The NC General Assembly (NC GA) convened on January 9 to appoint leadership and establish committees. Sen. Phil Berger continues as President Pro Tempore for the Senate, and Rep. Tim Moore continues as Speaker of the House. Of particular interest is the I/DD Caucus which will continue this year under the leadership of Rep. Jon Hardister, Rep. Jean Farmer-Butterfield, Sen. Joyce Krawiec, and Sen. Terry Van Duyn.
The NC GA reconvened on January 30 to begin the work of this long session. One of the major tasks is developing and approving a budget for the biennium (July 1, 2019 – June 30, 2021). Once the Governor's Budget is received, the standard process is for the House to begin their work on the budget and once approved, send to the Senate. The Senate will likely make changes to the budget and approve their version. Any differences between the two are generally settled through a conference committee. It is more likely than in past that Medicaid expansion could pass, so expect to hear more about that. In addition, increases in Medicaid rates will likely be presented. Areas we hope to see addressed in the budget process include: registry of unmet needs, housing/residential supports, crisis supports, family support (to help address non-clinical social determinants of health), and protection of existing funds in the system.
Medicaid Transformation
Prepaid Health Plan (PHPs) contracts have been awarded for operation of the Standard Plan, which will cover approximately 1.6 million Medicaid recipients across the state. As a reminder, people with I/DD who are on Innovations, receiving state-funded services, or on the registry of unmet needs will not be assigned to the Standard Plan. But there are people with I/DD in our state who will be initially assigned. There were four statewide plans awarded to AmeriHealth Caritas of North Carolina, Blue Cross Blue Shield of North Carolina, United Healthcare of North Carolina, and WellCare of North Carolina. One regional Provider Led Entity (PLE) to cover two regions of the state was awarded to Carolina Complete Care. The following link provides an overview of contract awards. https://files.nc.gov/ncdhhs/medicaid/Medicaid-Factsheets-PHP-2.4.19.pdf
Over the next several weeks, the Department of Health and Human Services (DHHS) will meet with the PHPs to prepare for the launch which will occur November 2019 in two regions of the state, followed by the remaining 4 regions in February 2020. NC Medicaid beneficiaries will begin receiving information in the mail about managed care, plan options, and how to enroll in a plan. The state has contracted with a national group, Maximus, to provide Enrollment Brokers to assist with choosing plans.
As the Standard Plan rolls out, DHHS is actively working on the Tailored Plan, which will cover people with I/DD who are on Innovations, receiving other state services, or on the registry of unmet needs. Areas of attention include: ensuring a robust and knowledgeable network of medical providers, ensuring access to Enrollment Brokers who understand I/DD and our system of supports/services, understanding of navigation/case management as critical system element, identifying the process for moving between Standard Plan and Tailored Plan. The state continues to accept comments and suggestions as they move forward. https://www.ncdhhs.gov/assistance/medicaid-transformation
NC Program Assists People with Disabilities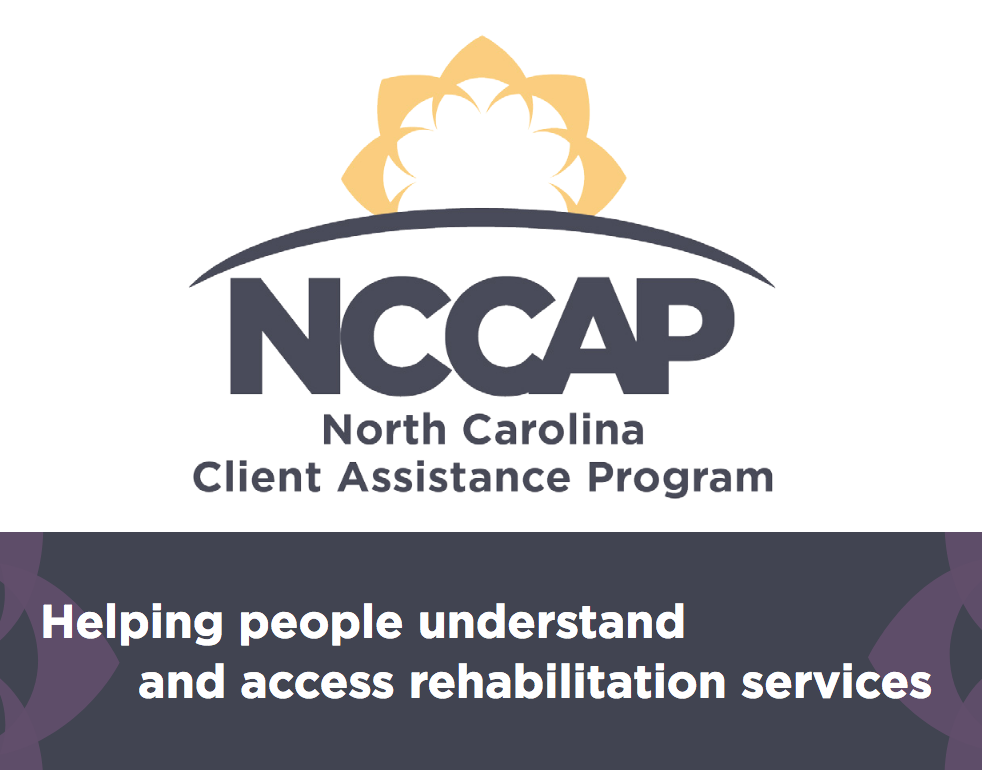 The North Carolina Client Assistance Program (NCCAP) supports individuals with disabilities in the understanding of and use of rehabilitation services offered throughout the state.In North Carolina, there is a federally funded program, the North Carolina Client Assistance Program (NCCAP), that supports individuals with disabilities in the understanding of and use of rehabilitation services offered throughout the state. According to its website, NCCAP is an independent advocate for the rights of people with disabilities. Its priorities include helping qualified individuals gain access to and benefit from rehabilitation services leading to employment and greater community participation.
The CAP program came about as the result of the Federal Rehabilitation Act of 1973 (as amended), which prohibits discrimination of anyone with a disability in a program that is offered by a federal agency, receives federal funds, or is a federal employer.
It's mission is to help maximize employment and independence opportunities for people with disabilities by providing advocacy, information and advice to individuals who are applying for or receiving services from North Carolina's Vocational Rehabilitation and Independent Living programs. The CAP can provide help for services offered through Division of Services for the Blind, Division of Vocational Rehabilitation, the Independent Living Rehabilitation Programs and Centers for Independent Living.
John Marens, Director of the CAP, says there are four main services that NC CAP offers:
1. Information and Referral
2. Individual Care Advocacy
3. Systems Advocacy
4. Outreach and Education

CAP works in many ways. The program has been involved in supporting clients with disabilities with living independently.
In one instance, CAP verified valid medical reasons for the walk-in bathtubs when Vocational Rehabilitation/Independent Living policy clearly stated this was not a service they would provide, citing federal regulations. CAP was able to identify that the origin of the policy was several years old and related to the poor quality of walk-in tubs during that time. The CAP was able to successfully argue for the service and for a rewrite of the policy.

It also helped another individual who sought the CAP's help. Living with a mechanical knee, he had moved from a one-story to a two-story home with a 45-degree driveway incline. In addition, his job as a cook required long hours standing, and he often fell at work. However, his request for a new prosthetic with microprocessor technology was denied, however. CAP assisted him in filing for an appeal hearing. With his home and job situations examined, the decision was reversed, the microprocessor knee was approved and the appeal hearing was avoided.

If you need assistance with services offered from the above listed agencies, you can call the CAP office at (919) 855-3600, email them at NCCAP@dhhs.nc.gov or learn more on their website at http://cap.state.nc.us
Meet Council Member: Ryan Rotundo
Hailing from Western North Carolina, Ryan L. Rotundo is ready to dive in as NCCDD's newest Council member. Rotundo was appointed to the North Carolina Council on Developmental Disabilities (NCCDD) by Governor Roy Cooper last July.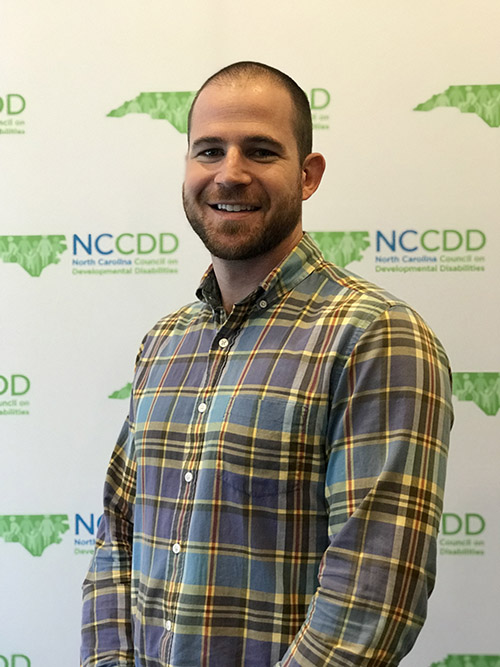 Ryan Rotundo"I've known about the Council for many years. My interest and desire to serve on the Council grew as I learned more about the current Five-Year Plan goals. I knew I needed to be involved because many of the issues the Council is working on are issues that my family and I are discussing and working through in real time, relative to my sister," he adds.
Rotundo is also a sibling advocate for his sister, Nicole, who is diagnosed with Down syndrome.
"My membership on the Council is evidence that the sibling voice is valuable. The sibling relationship is the longest relationship that someone with intellectual and other developmental disabilities (I/DD) will have in his/her life," he adds. "Siblings are/will be an integral part of the long-term support for someone with I/DD."
Ryan an Instructor of Exceptional Children (High School Level) for Buncombe County Schools. His work duties include delivering instruction following North Carolina's Occupational Course of Study (OCS) Curriculum, managing a caseload of students with developmental and other disabilities, coordinating IEP Team meetings, conducting testing, and collaborating with related service providers to meet the unique needs of each student.
Rotundo believes the greatest challenge in advocating on behalf of people with disabilities is identifying paradigms and managing expectations. "Having an older sister with a developmental disability is a role that I was born into and a role that I accepted at a very young age. My sister has always been an incredibly inspirational force in my life," says Ryan.
A resident of Weaverville, NC, Rotundo serves on the School Improvement Team at the school where he teaches. In addition, he is a small business owner and the College Sunday School teacher at his church.
"I want people to know that I love the work I do in the classroom, in my business, in my volunteer work, and other opportunities. It is my pleasure to serve those with I/DD and their families. I look forward to continuing this effort in my new role as a Council member," Rotundo says.