A Message from NCCDD Chair Alex McArthur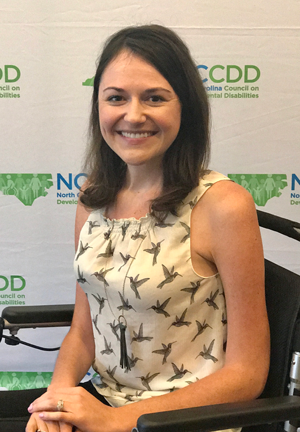 NCCDD Chairperson Alex McArthur
Each March, the North Carolina Council on Developmental Disabilities (NCCDD) joins with the National Association of Councils on Developmental Disabilities (NACDD) and many other organizations and groups in celebrating Developmental Disabilities Awareness Month. Many organizations, advocates and individuals with disabilities promote and celebrate the strides being made for everyone in education, employment and in community living.
Please join us in celebrating March's Developmental Disabilities Awareness Month. We invite you to use #DDAwareness19 on your social media posts as we show how people with and without disabilities are working to raise awareness and create thriving, diverse communities in our state and across our country. Find events celebrating and honoring Developmental Disabilities Awareness Month across North Carolina.
And, in the spirit of DD Awareness, join NCCDD and Council Member Brendon Hildreth for a day of painting! NCCDD and Brendon are hosting Accessibility Icon Painting Event on March 30 at the NCCDD office and at the DHHS campus. It's going to be a great event, and we hope you can come out, enjoy some treats, and paint with us!
Thank you for all you do to as an advocate for people with disabilities throughout North Carolina.
Alex McArthur, NCCDD Chair

FEDERAL
Budget and Appropriations
On March 11, President Trump submitted his 2020 budget for the fiscal year beginning October 2019. While this blueprint has limited support from Congress and does not hold the force of law, it does showcase the ongoing priorities of the President and his administration: instituting caps and cuts on the Medicaid program, repealing the Affordable Care Act, as well as significant cuts to food stamps, housing assistance and the Social Security Block Grant among others.
Tax Policy
A bipartisan group of Senators reintroduced legislation (S.651) that will amend the ABLE Act and raise the maximum age of disability onset from "before age 26" to "before age 46." This would increase the number of eligible ABLE account holders with disabilities and help strengthen state ABLE programs.
Community Living
On February 25, a group of bipartisan lawmakers from the House and Senate reintroduced the EMPOWER Care Act (S.548, H.R.1342), which would extend the Money Follows the Person (MFP) program through 2023. Without an extension, many states will, within months, run out of funds to support transition of qualifying individuals from institutional settings to community living.
Marriage and I/DD
On March 5, Representatives Katko (D-NY) and Keating (D-MA) introduced Marriage Access for People with Special Abilities Act (H.R.1529), which will protect federal benefits, like Supplemental Security Income (SSI), for individuals with intellectual and/or other developmental disabilities (I/DD) who wish to legally marry.
STATE
Legislative
The Governor's Budget was released earlier this month. Below are areas that would have a direct impact on people with I/DD. View this webpage for more details.
Money Follows the Person (MFP) Sustainability - Replaces expiring federal receipts to continue support for transitioning individuals with disabilities from inpatient facilities to qualified community settings. This funding shifts seven positions and adds two new positions to provide administration, management, fiscal oversight, technical assistance, and direct support to beneficiaries.
Developmental Disability Innovations Waiver Program - Provides additional low-acuity Innovations Waiver slots for individuals with developmental disabilities who are on the Innovations Waiver waiting list. These additional slots will become available January 2020.
Transitions to Community Living Initiative (TCLI)- Increases funding for the initiative which supports eligible adults with mental illness in transitioning from institutions to community care settings. This funding will provide additional tenancy and peer support services related to the US Department of Justice (DOJ) Olmstead Settlement. While TCLI is focused on adults with mental illness in institutional settings, there are many people in this group who also have I/DD.
Division of Services for the Blind and Division of Services for the Deaf and Hard of Hearing
State Match for Basic Support Vocational Rehabilitation Grant - Provides state matching funds to support jobs and training for individuals who are blind, deaf/blind, or visually impaired through the Basic Support Vocational Rehabilitation grant. This will allow North Carolina to leverage an additional $600,000 in federal funds.
Division of Vocational Rehabilitation
State Match for Basic Support Vocational Rehabilitation Grant - Provides state matching funds to support jobs and training for individuals with disabilities through the Basic Support Vocational Rehabilitation grant. This will allow North Carolina to leverage an additional $1.9 million in federal funds.
Benefits Counseling - Provides funding to support five benefits counselors for individuals who are blind and/or have other disabilities to support their employment efforts and explain available support services.
Assistive Technologies - Invests state funding to make a robust supply of state-of-the-art adaptive equipment and assistive technologies available to people with disabilities to enable them to live, work and be educated in their communities.
This is the first step in the budgeting process. After the Governor's Budget is received by the General Assembly, the standard process is for the House to begin their work on the budget and once approved, send to the Senate. The Senate will likely make changes to the budget and approve their version. Any differences between the two are generally settled through a conference committee. Committee meetings have begun with most of the of the focus on educating new legislators, so there is not much public information on the legislative budget at this point.
Policy
Autism Services - The new Medicaid service for children with autism has been approved by the Centers for Medicare and Medicaid Services (CMS). The final step in moving this to implementation is approval of the state policy to support the definition. Clinical Coverage Policy 8F for Research Based- Behavioral Health Treatment is up for Public Comment from 3/14/19 to 4/20/19.
Medicaid Transformation - The Department of Health and Human Services (DHHS) continues to work with the four statewide plans (AmeriHealth Caritas of North Carolina, Blue Cross Blue Shield of North Carolina, United Healthcare of North Carolina and WellCare of North Carolina) and the regional Provider Led Entity (Carolina Complete Care) who were awarded the contracts to operate the Standard Plan. They are working to prepare for the launch which will occur November 2019 in two regions of the state, followed by the remaining four regions in February 2020.
As the Standard Plan rolls out, DHHS is actively working on the Tailored Plan, which will cover people with I/DD who are on Innovations, receiving other state services or on the Registry of Unmet Needs. In addition, historical Medicaid claims data (billing for Medicaid services) will be used to identify individuals with I/DD who may not fall into the above categories. The Behavioral Health Tailored Plan Workgroup is working on eligibility and will develop a policy paper on eligibility, which should come out soon. Learn more about the Medicaid transformation.
Rethinking Guardianship Summit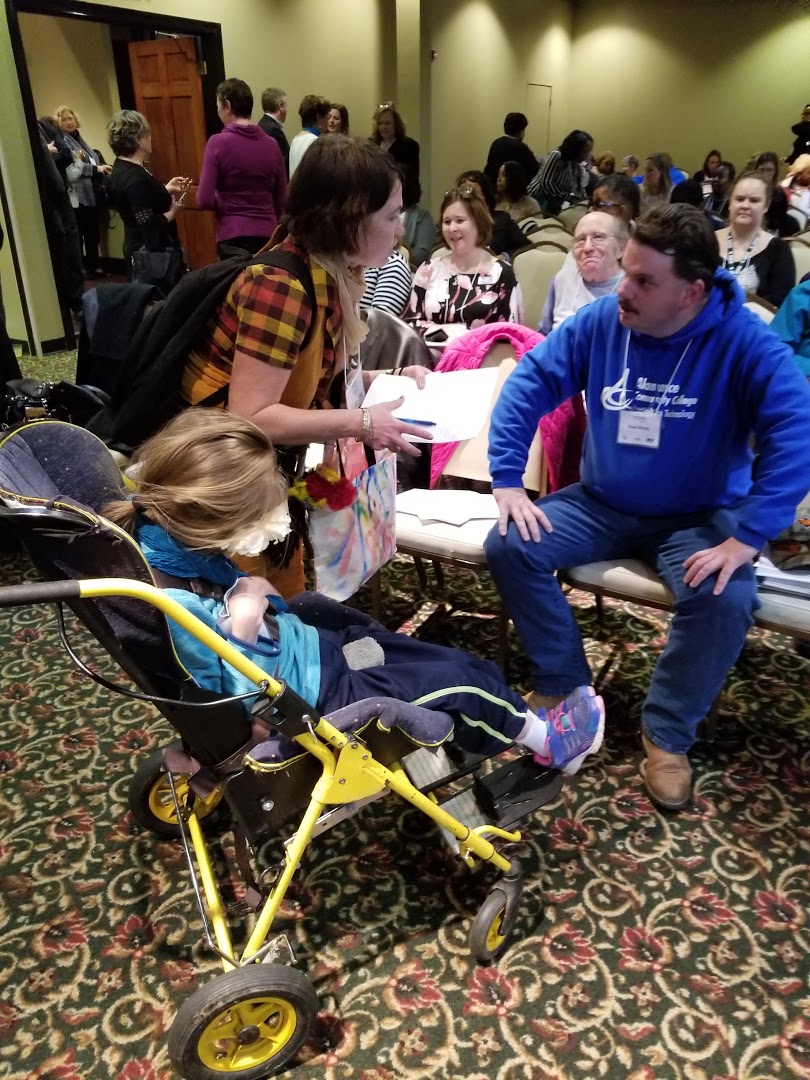 Heidi Dorf And Bhakti Dragomir Talk With Sean BradyOn February 25, 2019, nearly 280 people packed into the Royal Banquet & Conference Center in Raleigh for the Rethinking Guardianship Summit hosted by NCCDD's Rethinking Guardianship: A Person-Centered Approach initiative. Linda Kendall Fields of the Jordan Institute for Families at the UNC School of Social Work facilitated the event and read messages of support from the Office of Senator Richard Burr and Senator Thom Tillis, who both contributed to a report on guardianship released by the U.S. Senate Special Committee on Aging.
Attendees also heard from:
The Honorable Deborah Barker, Person County Clerk of Superior Court and Current President of the NC Conference of Clerks of Superior Court, who welcomed attendees.
Charmaine Fuller Cooper, AARP Associate State Director-Advocacy, who also participated in welcoming participants.
Raj Premakumar of the NC Department of Justice, who provided an overview of the seven topic areas identified for reforming and amending North Carolina General Statute 35A.
Sean Brady, a grounds worker and student in the Horticulture Department at Alamance Community College, who shared his story of guardianship and successfully seeing his rights restored.
The Honorable Kim Sigmon, Catawba County Clerk of Superior Court, who shared how this initiative has assisted clerks in adopting new practices and perspectives in the courtroom.
Erica Wood, National WINGS Coordinator of the American Bar Association Commission on Law and Aging, who gave the keynote "Rethinking Guardianship Nationally and in North Carolina: Changing Law, Practice, Hearts, Minds."
In addition to these speakers, a highlight of the day was Joyce Massey-Smith, NC Division of Aging and Adult Services (DAAS) Director, presenting the Dorothy R. Crawford Award to the Rethinking Guardianship Statewide Workgroup that has met over the past four years to further the work of NCCDD's Rethinking Guardianship initiatives.
Another highlight occurred when Heidi Dorf, the mother of Bhakti Dragomir, a person with I/DD who lives in Asheville and who recently turned 18, asked about Supported Decision-Making Agreements and guardianship papers, and NCCDD member Katherine Boeck responded by referring them to a NCCDD member who has experience with this topic. Linda observed this as an excellent example of peer-to-peer support. Heidi and Bhakti visited First in Families in Durham the day after the Summit and successfully signed a Supported Decision-Making Agreement. Read more about the Summit in the North Carolina Health News.
Division of Services for the Deaf and the Hard of Hearing Presents "Different, Different World" Activity
At the February Council meeting, NCCDD members had the opportunity to participate in Different, Different World (DDW) activities facilitated by NC Division of Services for the Deaf and Hard of Hearing (NC DSDHH) Community Accessibility Consultant Martina Moore-Reid and her fellow Raleigh Regional Center staff with support from the Wilson Regional Center staff, licensed sign language interpreters and community volunteers.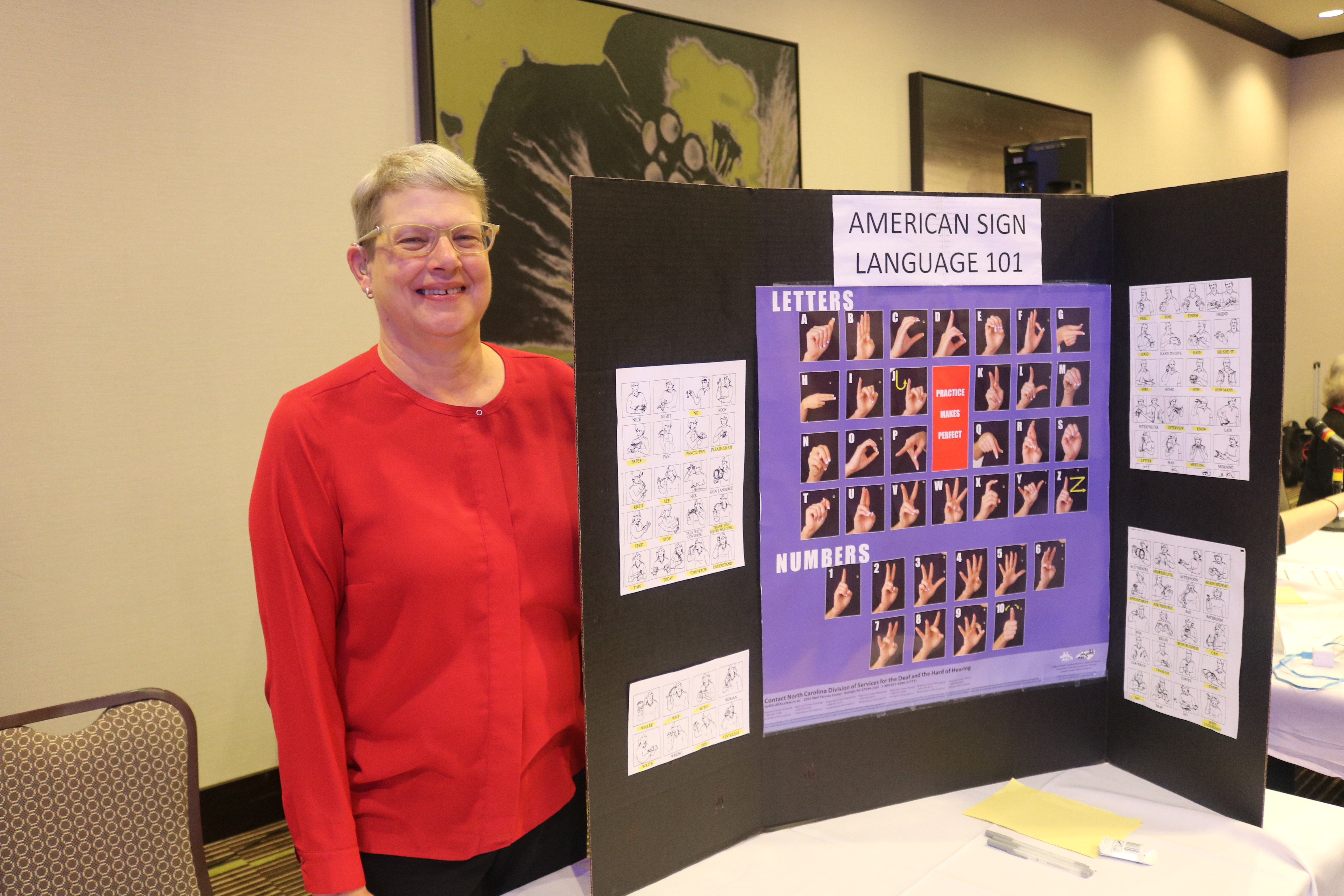 American Sign Language station at the Different World ActivityDDW is an interactive, hands-on exercise or series of scenarios that brings the participant through the varying communication challenges that Deaf, Hard of Hearing and Deaf-Blind individuals face on a daily basis in the mainstream world of hearing.
Participants rotated through different stations that resemble real-world settings where they need to figure out how to navigate and to obtain the information needed. After the exercise and debriefing, enlightened participants will strengthen their skills and apply learned strategies and awareness in effective communication tools to assist individuals with hearing loss.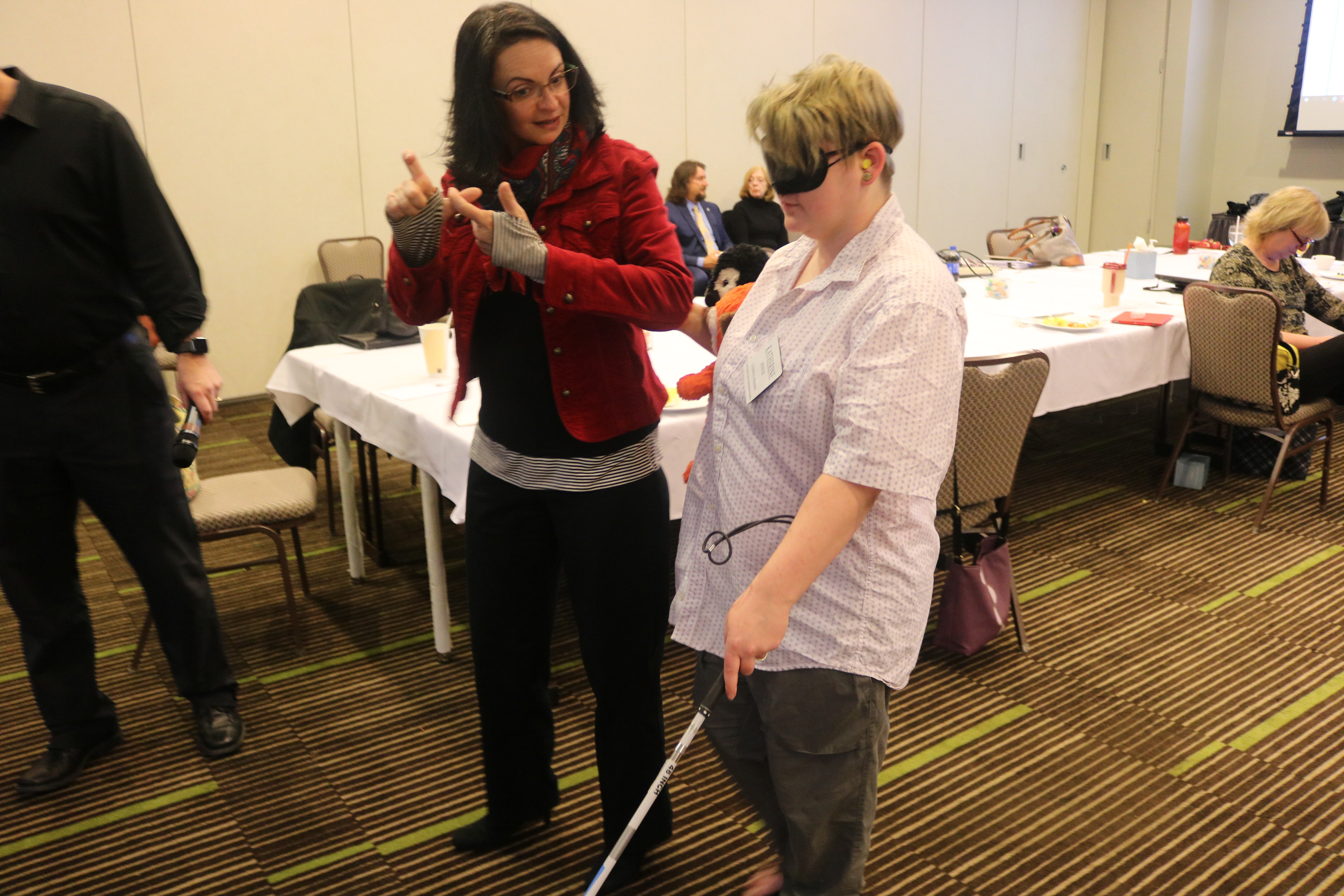 Katherine Boeck participates in a Deaf-Blind simulation experience at the Different, Different World activity.
The NC Division of Services for the Deaf and Hard of Hearing (NC DSDHH) works to ensure that all Deaf, Hard of Hearing or Deaf-Blind North Carolinians have the ability to communicate their needs and to receive information easily and effectively in all aspects of their lives, especially regarding their health and well-being.
Council members participated in a variety of stations that included learning the manual alphabet and counting to ten in sign language, doing a challenging lip-reading activity, participating in a low-vision station to experience what low vision feels like, putting on a blindfold and ear tubes and walking around with a white cane to experience being Deaf-Blind, and learning about telecommunications equipment available to assist people with hearing loss.
The members found it very beneficial and educational to understand the communication challenges that Deaf, Hard of Hearing and Deaf-Blind individuals experience daily. Feedback from members included:

The Council meeting location provided a safe environment for people to experience being Deaf-Blind, but the real world is not always safe.
Professionals who work with people with disabilities, including people who are Deaf and/or Hard of Hearing or have dual diagnoses, need to be aware of equipment available in order to write strong justification for their clients to receive the equipment necessary for communication access.
A heightened appreciation for the work that licensed sign language interpreters do.
Many thanks to DSDHH and all who helped facilitate the training! For more information about DSDHH, visit www.ncdhhs.gov/divisions/dsdhh or call 1-800-851-6099.
Meet Our Council Member: Dawn H. Allen
Dawn H. Allen, Chief Executive Officer of GHA Autism Supports, was appointed to the North Carolina Council on Developmental Disabilities (NCCDD) as the public at-large member by Governor Roy Cooper. A resident of Albemarle, Allen received a Bachelor of Arts degree in Psychology from Pfeiffer University and a Master of Education from the University of North Carolina Charlotte.
"It is an honor and privilege to be appointed to work with this group," Allen said. "It is very important to focus on community living and access," she added.
Looking at the work the Council is doing now, Allen said, "The Five-Year State Plan outlines the goals and objectives. This plan will keep us focused on these essential areas."
Allen says she found her passion early in life - working with people on the autism spectrum. Her devotion has garnered her the Professional of the Year award in both 1998 and 2008 by the Autism Society of North Carolina as well as the Achievement Award by the University of North Carolina at Chapel Hill's Division TEACCH program in 2008. Professionally, she has served with the Murdoch Developmental Center, the NC Providers Association and with Cardinal Innovations/Piedmont Network Council.
Her passion extends to her community where she was a volunteer with United Way of Stanly County and on the executive committee of the Stanly County Chamber of Commerce. She is currently the Chair of the Stanly Regional Medical Center Advisory Council, Past Chair of the Stanly County Community Foundation and is an active member of the Albemarle Rotary Club.
Join NCCDD on March 30 for the Accessibility Icon Painting Project!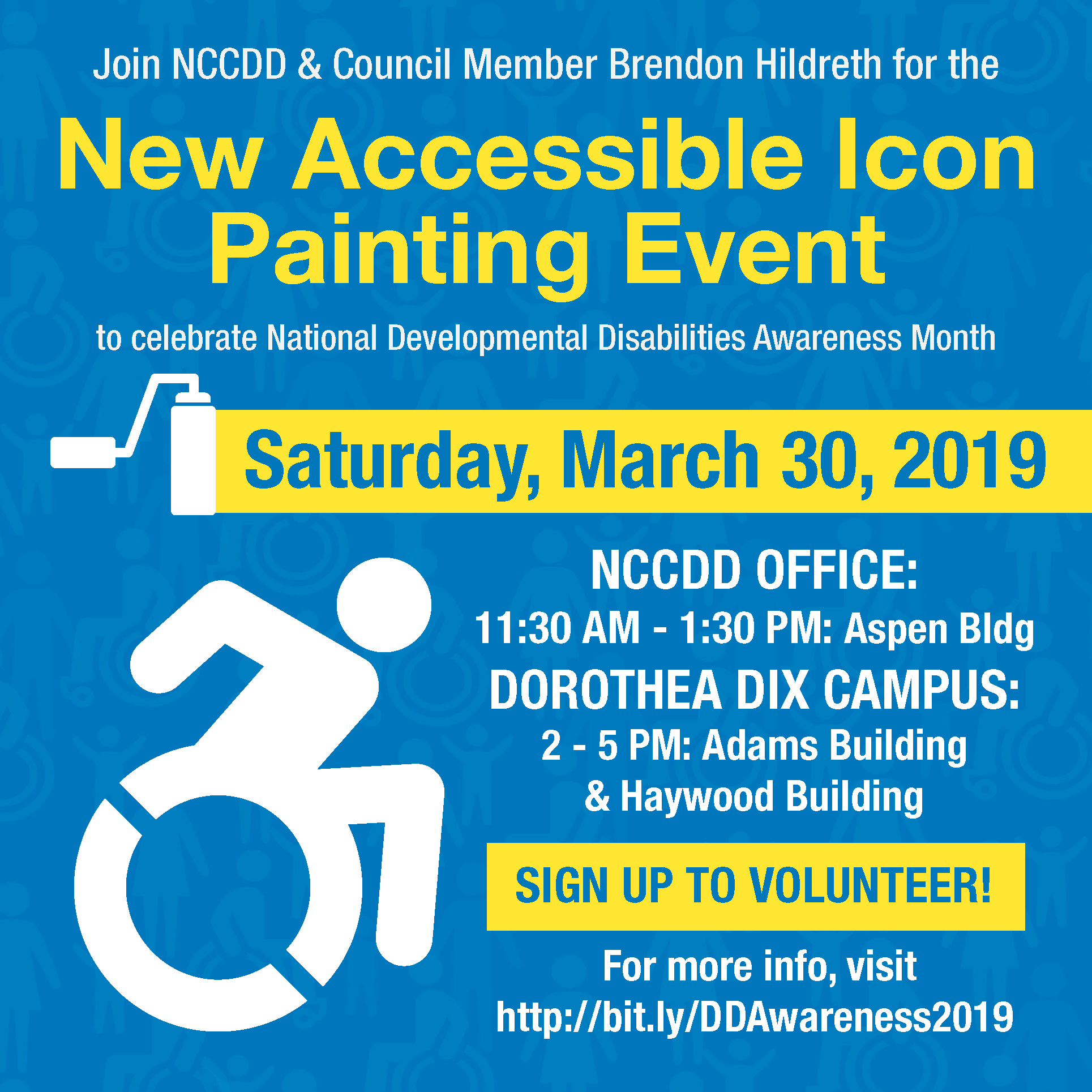 Celebrate National Developmental Disabilities Awareness Month with the North Carolina Council on Developmental Disabilities (NCCDD) by joining us to paint the new accessible icon on parking spaces at NCCDD's office and also on the Dorothea Dix campus. NCCDD member Brendon Hildreth, who has cerebral palsy, and his family will be coming to Raleigh to lead the event.
Saturday, March 30, 2019
NCCDD Office:
11:30 a.m. - 1:30 p.m.
Aspen Building
3125 Poplarwood Court
Raleigh, NC 27604
Dorothea Dix Campus:
2:00 p.m. - 5:00 p.m.
Adams Building
101 Blair Drive
Raleigh, NC 27603
Haywood Building
805 Ruggles Drive
Raleigh, NC 27603
For more information and to volunteer to paint, visit http://bit.ly/DDAwareness19