A Message from NCCDD Chair Alex McArthur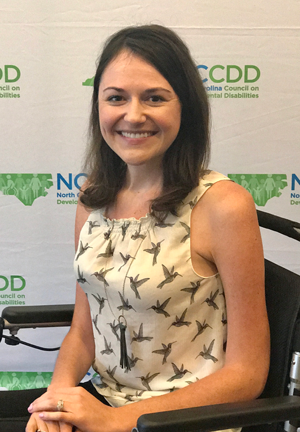 NCCDD Chairperson Alex McArthur
Happy 29th Anniversary of the Americans with Disabilities Act (ADA)!

On July 26, 1990, President George H. W. Bush signed the ADA, giving civil rights protections to individuals with disabilities. We began the anniversary celebration this month with a live podcast featuring Senator Tom Harkin, the chief sponsor of the ADA legislation. He discussed how the ADA came to fruition and the impact it has had to date. Listen to the podcast.

There are many ADA celebrations happening the remainder of July, you can get more details about each of these events and others on the North Carolina Council on Developmental Disabilities (NCCDD) website and on the ADA 29th Anniversary webpage.
Thank you to all of advocates across the state who continue to work for people with intellectual or other developmental disabilities (I/DD) and keep moving forward the mission of the ADA.

Alex McArthur, NCCDD Chair

FEDERAL
Budget and appropriations
While the House has passed the majority of its appropriations (spending) bills for 2020, the Senate is likely to wait until after the August recess. One of the major sticking points: bicameral agreement on spending caps. This will require fast-paced work in September when debt ceiling discussions will also be underway.
Independent Living, Respite and Autism
In mid-June, a Money Follows the Person funding extension passed the House (H.R. 3253) with a bipartisan vote including many members of North Carolina's delegation. All eyes are on the Senate to pass the EMPOWER Care Act (S. 548). If the Senate passes its bill, states will have steady funding for this critically important and successful program funding the transition of individuals out of institutional care while providing community-based supports.
On July 11, the Health Subcommittee of the House Committee on Energy and Commerce unanimously voted to approve the Autism Collaboration, Accountability, Research, Education, and Support (CARES) Act of 2019 (H.R.1058); and the Lifespan Respite Care Reauthorization Act of 2019 (H.R.2035). The next hurdle: approval by the full House Energy and Commerce Committee.
Tax policy
On June 18, the Economic Mobility Act of 2019 (H.R.3300) was introduced in the House. This bill makes improvements to the earned income tax credit, child tax credit and dependent care assistance, most of which last for two years. Additionally, it repeals a provision of the Tax Cuts and Jobs Act of 2017 that imposes a tax on nonprofit organizations that provide transportation benefits to their employees.
Education
The Government Accountability Office (GAO) released a report detailing the underreporting of restraint and seclusion in public schools. The report states that 70% of the nation's school districts reported zero incidents of restraint or seclusion during the 2015-2016 school year. Further analysis found many school districts recorded zero when data was not collected or collected improperly.
Employment:
On June 3, bipartisan Representatives introduced the Customized Approaches to Providing and Building Independent Lives of Inclusion for Transition-aged Youth (CAPABILITY) Act of 2019 (H.R.3070). This bill creates competitive grants for six states to develop pre-employment transition services for people with I/DD that comply with requirements for competitive integrated employment.
In mid-June, the Department of Labor (DOL) Office of Disability Employment Policy (ODEP) created a national online dialogue on the use of subminimum wages under Section 14(c) of the Fair Labor Standards Act. NCCDD submitted comments which reflected North Carolina's commitment to Employment First and the Council's 5-year plan goals of increased competitive, integrated employment and financial stability.
NC Congressional Districts:
In June, the Supreme Court ruled (5-4) that partisan gerrymandering was beyond its authority to judge. Based on that decision, North Carolina will not need to redraw its congressional districts prior to the 2020 election. However, each state's legislatures will again be redrawing their Congressional maps pending the upcoming 2020 census results.
STATE
Legislature

The Conference Committee that was appointed to work out the differences between the Senate and House budgets produced a budget that was approved by the General Assembly. It included the following:
Medicaid Transformation Funds: Dollars to support the transition to Medicaid managed care. Most of this is to pay for the fee-for-service claims that will continue through the transition.
Expanding Innovations Waiver: The budget includes 500 slots to begin in January 2020 and 500 slots to begin in January 2021.
Traumatic Brain Injury Funding: The budget includes recurring dollars in each fiscal year of the biennium for TBI services.
Supplemental Short-Term Assistance for Group Homes: This funding fills a gap created when some people with I/DD lost funding due to eligibility changes to Personal Care Services.
ICF Group Home Wages: The budget increases the capitation rates for LME/MCOs to enable increases in the wages paid to direct support personnel working in Intermediate Care Facility (ICF) group homes for individuals with I/DD to align with wages paid in the Developmental Centers.
Innovations Wages: Funds are included to conduct and actuarial analysis and wage and hour study of the Innovations Waiver program to determine what is needed to increase wages to align with wages in Developmental Centers.
Addressing Unmet Needs in Innovations Waiver: The budget calls for a ten-year plan to be developed by the Division of Health Benefits (DHB) with input from stakeholders to address the waiting list.
Evidence Based Supported Employment: Provides funds to the Association of People Supporting Employment First (APSE) to develop training to implement supported employment.
The budget did not include Medicaid Expansion, which was a part of the original Governor's budget and would be beneficial to the upcoming Medicaid Transformation. The Governor vetoed the budget and sent it back to the legislature. As of July 1, the state is running on the current budget until the new budget can be approved. As of the writing of this update, the Senate has left Raleigh and is expected to come back at the end of July.
Medicaid Transformation continues to move forward with Standard Plan expected to launch in November. The approval of a state budget may affect the date, but at this point, the state is continuing to move forward.
The Medicaid Managed Care call center (833-870-5500) and website went live on June 28. Beneficiaries are already using both to learn more about managed care and enroll in a health plan. NC Medicaid Managed Care Phase 1 is on track for beneficiaries to begin using their health plan on November 1.
NC Medicaid Managed Care Phase 1 covers counties in regions 2 and 4:
Region 2: Alleghany, Ashe, Davidson, Davie, Forsyth, Guilford, Randolph, Rockingham, Stokes, Surry, Watauga, Wilkes, Yadkin
Region 4: Alamance, Caswell, Chatham, Durham, Franklin, Granville, Johnston, Nash, Orange, Person, Vance, Wake, Warren, Wilson
This week, Phase 1 enrollment packets started being mailed to beneficiaries in regions 2 and 4. (Open enrollment for Phase 1 officially begins July 15.)
As a reminder, people who are receiving Innovations Waiver services, on the registry of unmet needs or receiving state-funded I/DD services will not go into the Standard Plan unless they request it. (Innovations waiver services and state-funded IDD services are not available in the Standard Plan.) Until the Tailored Plan is launched, they will continue to receive support services through the LME/MCOs and medical services through the current fee-for-service Medicaid system.

The Tailored Plan is being developed with a projected launch in July 2021. There have been a series of white papers issued.
Earlier this spring, the Intellectual/Developmental Disability (I/DD) Medical Health Home initiative hosted an all-day Summit titled Pathways to Innovation, Integrated Care and Sustainability: What we are learning from North Carolina consultation projects and partnerships. The Summit was attended by 89 participants, representing individuals with intellectual and other developmental disabilities (I/DD), families, advocates, state government, LME/MCOs, disability providers, MCOs, health care providers and researchers from across the state.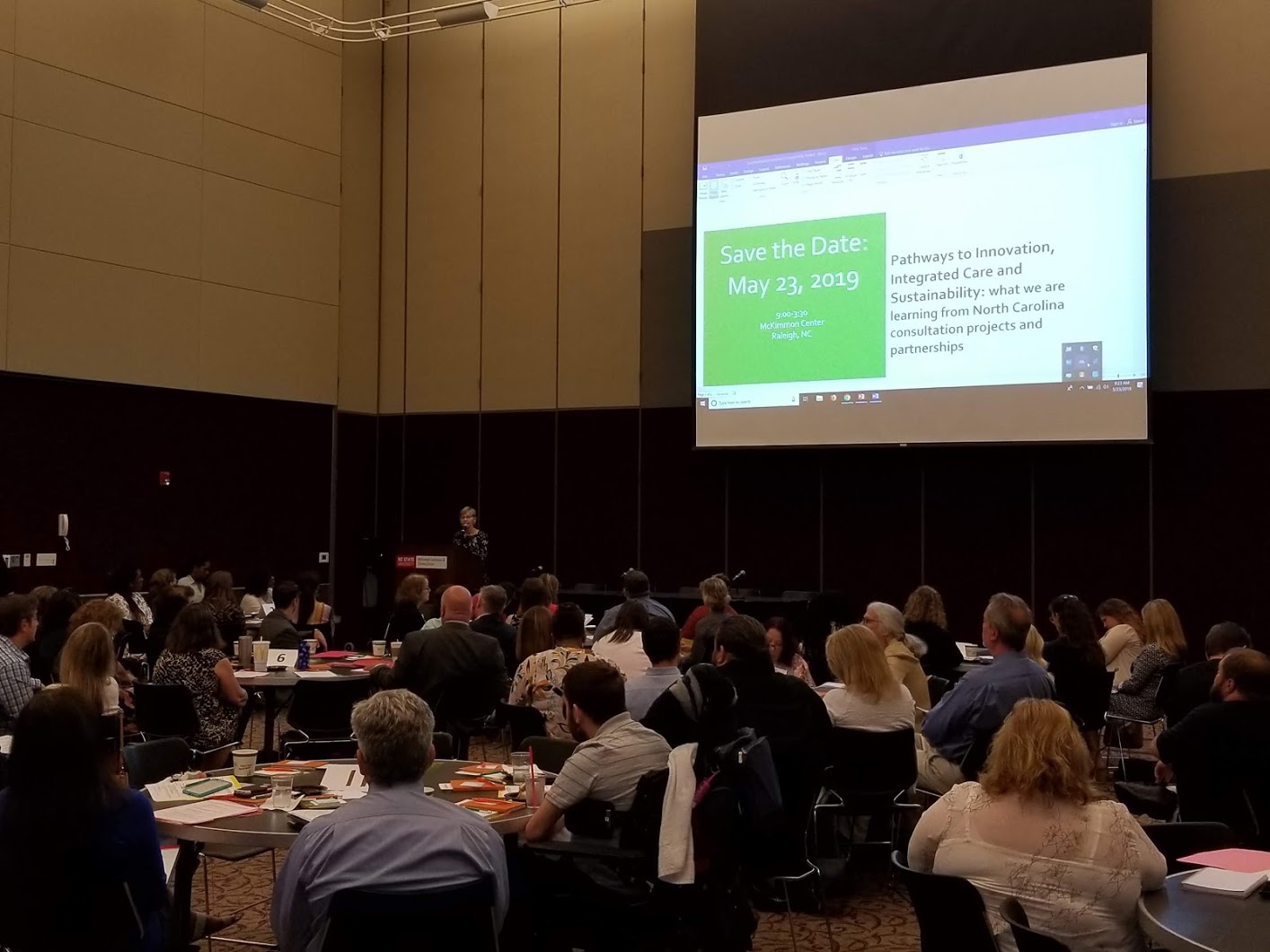 Karen Luken Addresses The Audience
Six current NCCDD members participated:
Anna Cunningham
Bryan Dooley
Kerri Eaker
Mya Lewis
Danielle Matula
Cheryl Powell
The agenda included presentations from four North Carolina projects that are implementing multi-disciplinary, integrated care approaches designed to improve access to and continuity of care for people with I/DD.
NC Innovation Projects and Partnerships, Duke Health, in partnership with UNC Health Care and NC START Central, has established the NC Pediatric Access Line (NC PAL), a telephone consultation service to support primary care providers and behavioral health teams caring for children 3-22 years old with I/DD. NC PAL also provides referral support for so that families can be connected with appropriate resources and assisted with systems navigation.
TEACCH UNC-CH, in partnership with the Autism Society of NC and AHEC, is implementing Project ECHO Autism to improve the quality of care across the lifespan received by individuals with Autism Spectrum Disorder (ASD). The focus is on rural communities and providers with a goal to increase knowledge about ASD, common medical and behavioral health conditions experienced by children and adults and recommended evidence-based interventions.
Mission Children's Hospital, in partnership with McDowell Pediatrics, Hendersonville Pediatrics, MAHEC Family Medicine and Vaya Health, is implementing DD Plus. The goal is to provide integrated, family-centered, community-based care for children with I/DD who are experiencing behavioral health and other complex care needs.
The MAHEC I/DD clinic is based in the MAHEC Family Health Center in Asheville and is a partnership between MAHEC Family Medicine and Vaya Health. It ensures every physician graduating from the family medicine residency is skilled and comfortable in the care of patients with I/DD and considers care of this population part of their responsibility in serving the community. The clinic offers comprehensive, individualized evaluation and consultation for children and adults with I/DD and is designed to support and coordinate care with the patient's medical home.
The presenters also shared WHY their organizations are investing in this work and how it is critical to meaningful systems change and Medicaid Transformation. Dr. Kathleen Thomas, the keynote speaker, helped frame the day within the context of health reform. The Summit illustrates that collaboration is a critical element in removing barriers to care and promoting access to high quality, integrated, person-centered care.
Learn more about these projects and the Summit
Virginia Knowlton Marcus is the CEO at Disability Rights North Carolina, where she leads, develops and supports a nonprofit legal advocacy organization dedicated to advancing the rights of people with all types of disabilities, of all ages, statewide. She was appointed to the North Carolina Council on Developmental Disabilities (NCCDD) by Governor Roy Cooper earlier this year.
Her road to advocacy work began with a legislative internship during undergraduate school at the University of California-Davis. After earning her Bachelor's degree in International Relations, she went on to receive her Juris Doctorate degree. "I began working in the disability rights field during law school, starting as a legal intern at Disability Rights California, where I worked a total of 11 years in positions that included Director of Public Policy and Director of Legal Advocacy," Marcus shares.
Marcus is anxious to see NCCDD concentrate on community access and integration.
"There are far too many North Carolinians with disabilities who lack access to integrated, quality services and supports. Segregation and discrimination remain widespread, and the costs in both human and economic terms are huge," Marcus shares.
Marcus adds she is excited about NCCDD's Leadership Training Initiative because, "it will develop and empower new leaders with developmental disabilities. We need more people pushing on the systems that were designed to serve them but fail to do so, to achieve the systemic change we need to realize the vision set forth above."
Marcus, who lives in Raleigh with her husband, Michael, and their dog, Jackson, is involved with the National Disability Rights Network board, NC Child Well Being Transformation Council, Mental Health Block Grant Planning Council, Brain Injury Advisory Council and the Statewide Independent Living Council.
"Greater community integration with appropriate support will allow people with disabilities to thrive and contribute, lead to increased acceptance of disability as a natural part of human experience, and result in a more meaningful life experiences for all," adds Marcus.

---

En Espanol - July 2019

---
Audio - Highlights and Hot Topics