A Message from NCCDD Chair Alex McArthur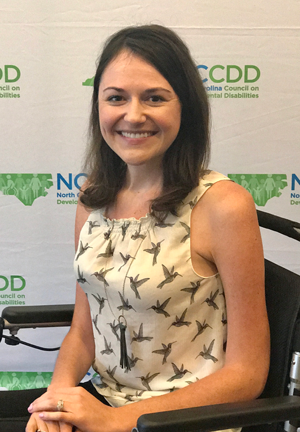 NCCDD Chairperson Alex McArthur
It's the most joyous season of the year – and we continue that joy with news from the North Carolina Council on Developmental Disabilities (NCCDD)!
Please take a moment to look back through an entire year's work done by the NCCDD and their partner agencies in our 2019 Annual Report found here. We completed year three of our Five-Year Plan, keeping our focus on increasing financial security, community living and advocacy. You'll also read about new initiatives such as our NC Employment Collaborative, the NC ABLE Project Prosperity and Rethinking Guardianship: A Person-Centered Approach. In 2020, we will continue this great work and begin planning for our next Five-Year Plan. There will be many opportunities for your engagement in this planning ahead.
Our NCCDD calendar continues to expand with a multitude of conferences, webinars and events that are all-inclusive. Check out our calendar here. We constantly update our listings so be sure and check back often. If you would like to add something to the calendar, simply send all the details to Info@nccdd.org.
On a personal note, this is my last message as Chair to you all as I am leaving the Council a bit before my term ends due to expanded work duties. I will hold the great memories of my time on the Council close to me. Thank you to our 40 Governor appointees who lead this Council to accomplish great things for all people throughout the state of North Carolina.
I look forward to watching the future accomplishments and advocacy work this Council will achieve and will forever cherish my time as part of this amazing group.
The NCCDD is always here to help. Please check out our website, share your ideas, and stay in touch.
Alex McArthur, NCCDD Chair

Public Policy Update as of 12/9/19

FEDERAL
Federal Funding
Although the 2020 Fiscal Year began on October 1, 2019, Congress did not complete its appropriations process. The federal government has been operating under a continuing resolution (CR) 2019 level funding, which is set to expire on December 20. To avoid a government shutdown, one of two things must happen: Either Congress must agree to, and the President sign, another CR before the deadline. Alternately, Congress could complete its appropriations process by the 20th. Few working days remain before the deadline.
Money Follows the Person
With funding set to expire on December 31, Money Follows the Person (MFP) received a bipartisan boost in the Senate with an agreement to tie permanent funding to the Drug Pricing and Health Care Extenders package. MFP, a highly successful federally funded grant program, helps individuals with disabilities and elders move out of institutional settings into the community with supports and services. A vote in Congress is anticipated soon.
Food Stamps
On December 4, President Trump issued a final rule which reduces eligibility for the Supplemental Nutrition and Assistance Program (SNAP), often referred to as food stamps. The administration estimates this change could lead to 700,000 people losing food benefits. In addition to limiting states' abilities to broaden and extend eligibility, this rule creates a number of work requirements. While the work requirement changes are designed for "able-bodied adults," previous work requirement implementations at the state level have shown that defining, identifying, and certifying individuals with intellectual or physical disabilities has proven difficult, often resulting in benefit loss.
NC Congressional Districts
On December 2, a three-judge panel ruled that the newly drawn Congressional districts which passed the state legislature in November are constitutional and will stand for the upcoming 2020 election. North Carolina will need to revise its districts yet again for the 2022 election based on upcoming 2020 census response. It's projected that North Carolina could gain an additional seat in Congress based on that population-based allocation.
STATE
Legislative Budget

The state continues to operate under last year's budget. The legislature reconvened on November 13th with a focus on Congressional redistricting and will reconvene in January (which is a continuation of the long session which began last January). It is uncertain whether the budget will be addressed in January. The coming year is a short session which usually begins in May and is usually focused on making adjustments to the biennial budget approved the previous year. Without an approved budget and with elections coming in November, it may be an unusual short session.
Medicaid Transformation
Without a budget, Medicaid transformation has been put on hold since funds needed to move through transformation are not currently available. The Standard Plan was slated to go live on February 1, 2020. The Department of Health and Human Services (DHHS) has stated that they will not announce another 'go live' date until the funds needed have been appropriated.
With suspension, there are certain activities that have been terminated, some that will wind down, and others that will continue.
Activities that have stopped include: Counseling about which plan to choose, enrollment events, and outreach specialists located in DSS offices.
The Enrollment Broker Call Center closed on December 13, but the Medicaid Call Center and the PHP call centers will continue to operate.
At the recent i2i Conference in Pinehurst, the message from DHHS was that managed care will happen – the question is not 'if' but 'when' - and that some activities should continue. Beneficiary education will continue to ensure that there is a clear message on what to do now and what to do when managed care restarts. Providers are encouraged to continue to work on contracts with the PHPs. The PHPs will continue to engage in readiness activities. DHHS will move forward with the Ombudsman contract and with the Healthy Opportunities Pilots.
The Tailored Plan Request for Applications (RFA) is planned to be released in February 2020 as originally scheduled. The actual implementation may be affected by the suspension of the Standard Plan since the design was for the Tailored Plan to begin a year after the Standard Plan.
For now, Medicaid beneficiaries will continue to receive medical and behavioral health services as they have in the past with no changes. For those who had chosen a plan, they will be given an opportunity to affirm their choice or make a change when Medicaid transformation restarts. DHHS has set up a website with answers to frequently asked questions as well as a 'chat' function to address questions/concerns from consumers.
NCCDD Announces Two New Requests for Applications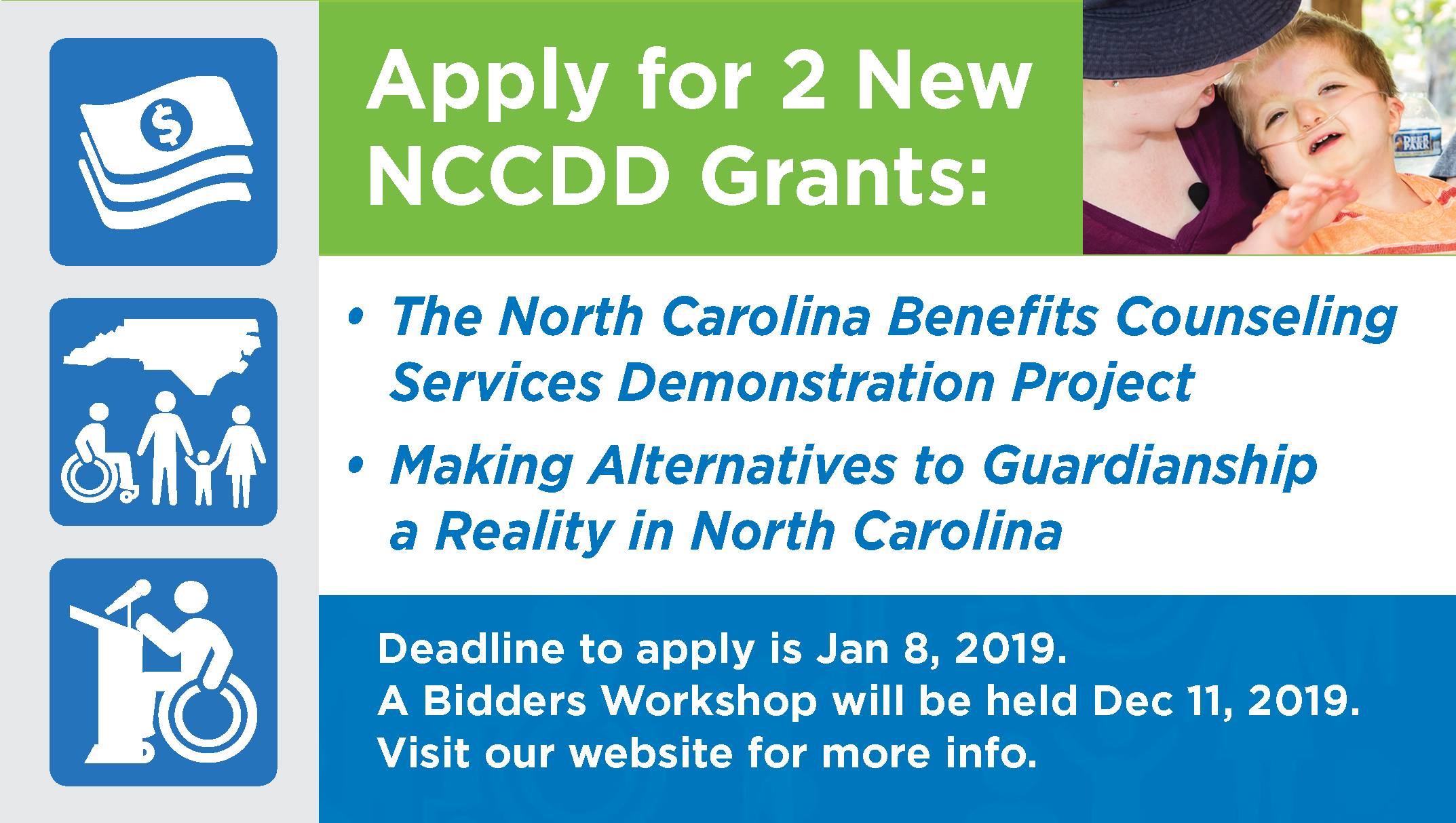 The North Carolina Council on Developmental Disabilities (NCCDD) is seeking proposals for two new initiatives. These new initiatives will focus on the North Carolina Benefits Counseling Services Demonstration Project and Making Alternatives to Guardianship a Reality in North Carolina. These initiatives are geared towards achieving the goals outlined in the Council's Five-Year State Plan.
Request for Applications (RFAs) for both initiatives are due January 8. Details on what each initiative involves and how to submit RFAs can be found here. If you have questions regarding either RFA, please email them to RFAinfo@nccdd.org.
Supported Living: Including Everyone Conference

NCCDD's Supported Living: Making the Difference initiative hosted a two and-a-half day conference titled "Including Everyone" at the Hilton Garden Inn in Cary on October 28-30. Approximately 100 people participated, including nine individuals with intellectual and other developmental disabilities who have transitioned to a home of their choice in the community using the Supported Living service.

Attendees at the Supported Living Conference
Jesse Smathers of Vaya Health welcomed attendees, and I/DD behavioral health expert David Pitonyak talked for the first two days about the importance of relationships, not just staff coverage, as a means to help individuals with I/DD live successfully in their communities. David wrapped up with his "Walking to the Fire Road" keynote on the third day.
The true highlight was a panel on the third day that provided the opportunity to hear from eight individuals accessing Supported Living.
Sam Hening of Raleigh exclaimed, "I felt confident. Awesome . . . for all of us to live on our own." Nicole Rotundo, the sister of NCCDD member Ryan Rotundo, talked about hosting social gatherings and decorating her apartment the way she wants to. Other panelists talked about acquiring new independent living skills such as cooking for themselves and engaging in activities such as visiting a farm weekly and obtaining a black belt in Tae Kwon Do.
"The panel on Wednesday was one of the highlights of my career. Hearing from people who are using Supported Living to live in their own homes and actively engage in their communities was a wonderful experience," said Smathers.
The Supported Living initiative is in the process of finishing video vignettes featuring the individuals who spoke on the panel, and the initiative will also deliver a Supported Living Guidebook to explain how to make Supported Living work successfully in North Carolina. A webinar to introduce these was on December 12, and then these products as well as a final report will be available on NCCDD's Supported Living initiative webpage in the upcoming months.
---

---
Audio - Highlights and Hot Topics
---