Letter from the Executive Director

What if people with intellectual and other developmental disabilities (I/DD) and family members were employed throughout all the systems that serve them? That would mean they would be valued employees at schools, providers, LME/MCOs, DHHS, and many other entities. This also would grow the important work family navigators are already doing in our state.
Of course, many individuals and family members prefer other types of work. Still, we are working for North Carolina to be an Employment First state. Those of us who are in the various I/DD systems should, therefore, be recruiting, training, and employing more and more individuals and family members.
This would not only increase employment but it would also enable the I/DD systems to reflect one of the deepest values of self-advocates within the disability rights movement: "Nothing About Us Without Us." This mantra reflects the belief, says author James Charlton, that "people with disabilities . . . know what is best for them."
North Carolina is preparing to launch Tailored Plans for individuals with I/DD, traumatic brain injury and behavioral health-related disabilities. With these plans, people with I/DD and family members can be employed as "Care Extenders." We are still learning how this will work, but it offers one opportunity to increase employment of individuals and families within the healthcare system. It is often those who have had to navigate the system difficulties that can be best at supporting others to do the same. This is an unprecedented opportunity to increase employment for our community.
It will not be easy to carry out such a vision. There are challenges in ensuring necessary accommodations, training, and benefits counseling, but they can be overcome. We can grow our system to truly reflect the I/DD community not only in those who are served but also in those who are designing and providing the services.
Talley Wells, Executive Director
Public Policy (as of May 9, 2022)



FEDERAL
The Savings Penalty Elimination Act has been introduced by Senator Sherrod Brown (D-Ohio) and Senator Rob Portman (R-Ohio). This is a bi-partisan push to update Supplemental Security Income (SSI) asset limits and would increase the amount of money that SSI beneficiaries can save without being disqualified. Currently, individuals receiving SSI can have no more than $2,000 in assets. Married couples are limited to $3,000. Those figures have not changed since 1984. The bill known as the Savings Penalty Elimination Act would increase those caps to $10,000 for individuals and $20,000 for married couples.
Plain Language: There are some Senators who are trying to make it easier for people with disabilities who receive SSI to earn and save money without losing their benefits. They are raising the amount of money that people who get SSI payments can have without penalty.
The Protecting Health Care for All Patients Act was introduced in April. The bill would expand access to treatment and prevent discrimination against people with disabilities by prohibiting the use of "quality adjusted life years" (QALYs) in all federal programs. Currently, only Medicare is prohibited from using QALYs, a metric used to determine the cost-effectiveness of medications and treatment in healthcare. It is a subjective quality of life standard that anticipates a person's lifespan and usage can lead to denying medications and treatment to people with disabilities.
In 2019, the National Council on Disability (NCD) issued the report Quality-Adjusted Life Years and the Devaluation of Life with Disability: "The lives of people with disabilities are equally valuable to those without disabilities, and healthcare decisions based on devaluing the lives of people with disabilities are discriminatory." In an effort to lower healthcare costs, some public and private health insurance providers have utilized QALYs to determine the cost-effectiveness of medications and treatment. QALYs place a lower value on medications and treatments which extend the lives of people with disabilities. In the report, NCD found sufficient evidence of the discriminatory effects of QALYs. The use of QALYs in a state-run program violated the Americans with Disabilities Act.
Plain Language: People with disabilities may be denied medication and treatment if "quality adjusted life years" (QALYs) are used to make decisions. The use of QALYs discriminates against people with disabilities in receiving healthcare. Some members of Congress are working to be sure federal programs do not use QALYs.
Money Follows the Person Expansion
The Centers for Medicare & Medicaid Services (CMS) announced it will offer more than $110 million to expand access to home and community-based services (HCBS) through Medicaid's Money Follows the Person (MFP) program. This notice makes individual awards of up to $5 million available for more than 20 states and territories that currently are not participating in MFP. For states already participating in MFP, like North Carolina, CMS announced an increased reimbursement rate for MFP "supplemental services." These services will now be 100 percent federally funded with no state share. CMS is also expanding the definition of supplemental services to include additional services that can support an individual's transition from an institution to the community, including short-term housing and food assistance.
Plain Language: CMS (The Centers for Medicare & Medicaid Services) is offering new grants to some states and territories to create programs to help people who live in institutions to move into the community. North Carolina already has this program and will receive more money for providing some additional services.

STATE
The NC General Assembly will go into a Short Session on May 18. During the short session, the House and Senate budget writers will propose adjustments to the two-year budget that was passed in the long session. Bill filing deadlines are set in advance, which indicates that the General Assembly is looking to get in and out of session quickly. One of the priorities of the Department of Health and Human Services is the expansion of Medicaid which would increase access to medical and psychiatric services for many people in NC, including people with mental health needs and substance use disorder.
This would potentially free up state dollars that could benefit people with I/DD. Several groups are working to educate and advocate for Medicaid expansion. Care4Carolina is one of those groups.
Plain Language: State Legislators will return to work at the General Assembly Building in May for a short session. One item they will talk about is increasing the number of people in NC who can get healthcare through Medicaid. This could help people with disabilities.
Tailored Plans are currently scheduled to begin December. Two key parts of the implementation of the Tailored Plans are Care Management and 1915(i) waiver. Tailored Plan Care Management for people with I/DD will be provided through Care Management Agencies (CMAs) or the Tailored Plan entity. Care Management will coordinate whole-person needs, including physical health, behavioral health, I/DD, TBI, long-term services and supports, pharmacy and unmet health-related resource needs. As mentioned in the last Highlights & Hot Topics issue, the NCCDD along with other I/DD advocacy groups have pushed to include family navigation and peer support as a part of the care team. As a result, a definition of an "extender"has been added to Care Management. We will continue to monitor the impact of this addition since the rates were not adjusted to cover the costs of extenders. The state is working to get CMAs approved and operational so they will be in place for the launch of the Tailored Plans.
The state is working to finalize the proposed service definitions for the 1915(i) Medicaid waiver. These services would create more options for people with developmental disabilities who are Medicaid-eligible. The state's goal for these services is that they will 1) take the place of the current B(3) services and 2) improve the service array for people with developmental disabilities. These definitions should be out soon for public comment. Following public comment, they will be sent to the Center for Medicare and Medicaid Services (CMS) for approval. This waiver also needs to be approved and in place for the launch of the Tailored Plan.
Plain Language: The state is getting ready for the new Tailored Plans for people with I/DD. A new Care Management system and new Medicaid services will be a part of the Tailored Plans, These new plans will start in December 2022. There is a lot of work to do before that date.
Council Member Brendon Hildreth Takes on City Hall
To say North Carolina Council on Developmental Disabilities (NCCDD) member Brendon Hildreth of New Bern gets things done is an understatement.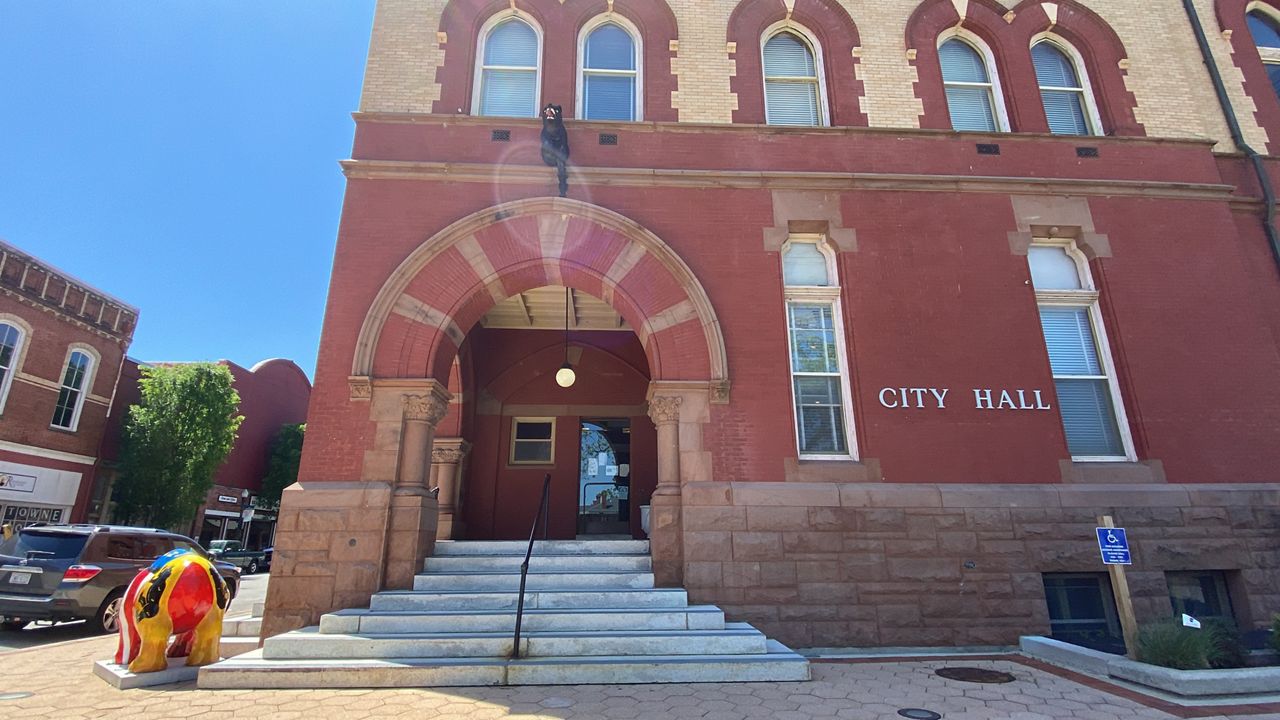 Bachelor of Science degree in Industrial Technology earned recently
Accessible Icon Project brought to our state and implemented in multiple North Carolina locations
Getting into an office in New Bern's historical City Hall: Working on it! The historic building, built before the Americans with Disabilities Act (ADA) went into effect, is not currently accessible to all people, yet it houses the government that is to represent and serve all people.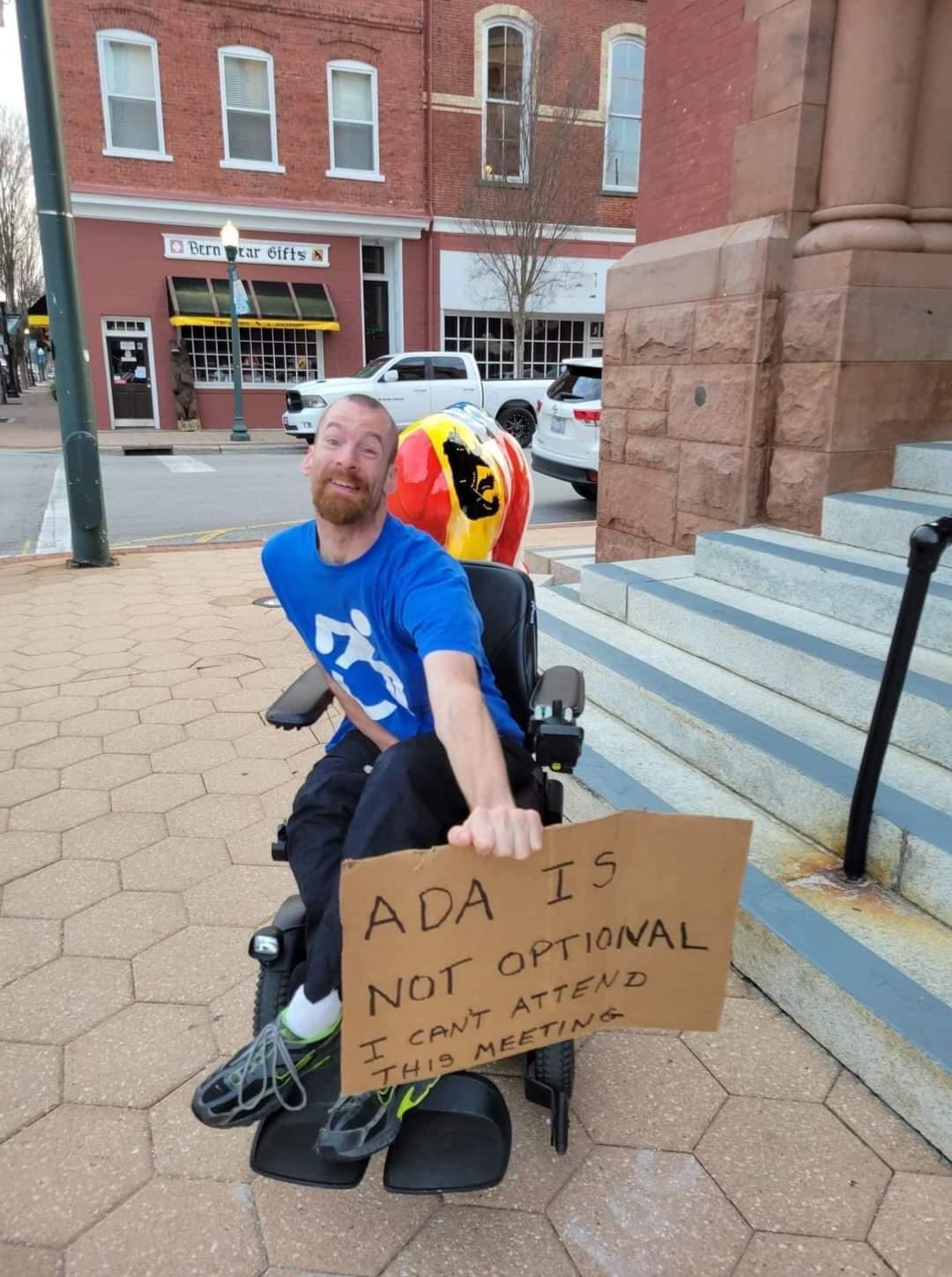 Hildreth uses a wheelchair with assistive technology due to his cerebral palsy. Interested in politics, he has never been able to enter his town's City Hall which is only accessible by stairs. His advocacy work has brought this to New Bern's leaders' attention.
As early as 1968, New Bern city leaders discussed adding an elevator to the building but did not move forward on it. Now the cost to do so is up to $4 million- and the powers that be agree it is time to move forward. The elevator will take nearly a year to complete.
Watch for an update next year as Hildreth finally enters a building that houses the city government who promises to represent all people.
New Publications Help with Making Alternatives to Guardianship a Reality in North Carolina
The NCCDD-funded initiative, Making Alternatives to Guardianship a Reality in North Carolina, has two new publications to share in helping individuals with disabilities consider other alternatives than guardianship for managing their lives.
While the legal process of guardianship was designed to protect individuals with disabilities, many people with intellectual and other developmental disabilities (I/DD) come under full guardianship without ever having their abilities to make life decisions assessed.
The goal of this initiative is to bring awareness about alternatives to guardianship and Supported Decision-Making to individuals with I/DD and their families. To help, two new publications were recently released by NCCDD and Rethinking Guardianship NC:
This initiative is part of NCCDD's Five-Year State Plan as part of its goal to increase community living, noting that throughout their lifespan transition and lifespan planning, more individuals withI/DD will access housing, transportation, healthcare, health and wellness; participate in employment and community life; and be respected, valued and supported in their communities.

Fully understanding one's rights and being aware of less restrictive alternatives allows individuals with I/DD and their families to view guardianship as a last resort. Learn more about the initiative here.
Justice: Release, Reentry, and Reintegration
NCCDD's Justice: Release, Reentry, and Reintegration initiative's main goal is to improve transition outcomes after incarceration for individuals with intellectual and other developmental disabilities (I/DD).
Earlier this spring, Talley Wells, NCCDD Executive Director, and Jamila Little, Director of Social Work Programs Behavioral Health Services with the NC Department of Public Safety, coordinated an online Developmental Disability Services 101 presentation for prison social workers. Presenters included NCCDD member Rhonda Cox and Department of Health and Human Services Assistant Secretary Angela Bryant.
More than 110 individuals attended this presentation to learn about the initiative's focus on recidivism reduction (rearrest, reconviction or reincarceration) by expanding successful practices for reintegration into the community. In the long term, the initiative's goal is for North Carolina's prison system to have a model with culturally competent success plans to study and the right partnerships and collaborations in place to help prisoners with disabilities successfully reintegrate into the community.