Letter from the Executive Director

Bryan needs a DSP!
It sounds like a summer blockbuster. Unfortunately, it is the reality for our Council Chair Bryan Dooley and many others across North Carolina and across our country.

Bryan's need for a Direct Support Professional (DSP) became a crisis at our May Council meeting. Bryan had been advertising on social media and around Winston-Salem for DSPs. This hasn't worked. He only has one DSP.
As Bryan wrote in a recent blog post, "We have a big problem. Even if you have services like I do, there are not enough people …"
Before our Council meeting, his DSP became ill and was not able to join us. Bryan's mom died last year, and his grandparents volunteered to bring him to Asheville.
At the meeting, he had a health emergency which was made worse because Bryan didn't have a DSP. Fortunately, he received the treatment he needed, but the experience was frightening.
The DSP shortage is an emergency. It puts at risk Bryan's health, safety, and his ability to be part of our community. This is true for individuals with intellectual and other developmental disabilities (I/DD) across North Carolina.
I pass a sign for Bojangles on my way to the office each morning. It advertises $15 an hour for openers and closers. That is more than most DSPs in the community are paid even though they are critical to the health, safety, and independence of the I/DD community.
June 22 was the 23rd anniversary of the United Supreme Court's Olmstead decision. The Supreme Court said in Olmstead that Bryan and all individuals with I/DD have a right to live full and meaningful lives in the community rather than in institutions, under the Americans with Disabilities Act. The DSP workforce shortage threatens that right.
Bryan Dooley is blogging about his life as a person with a disability living in the community. He would love for you to read it and share it.
Talley Wells, Executive Director
Public Policy (as of June 9, 2022)

FEDERAL
Budget and Appropriations
The House of Representatives and Senate continue to work on appropriations for Fiscal Year (FY) 2023. Appropriations is the yearly act of setting aside money for specific federal programs. These programs are critical to ensuring people with disabilities receive a quality education, can be employed, and receive services and support in the community. Funding for most programs that impact people with disabilities is included in the Labor, Health, Human Services, Education and Related Agencies (LHHS) bill. Advocates are working with Congress to increase funding in some of the programs, including Leadership Education in Neurodevelopmental and Related Disabilities (LENDs) and University Centers for Excellence in Developmental Disabilities (UCEDDs).
Plain Language:
Congress is working to fund federal government programs for next year. Members of Congress and advocates are working to increase funding for programs that help people with I/DD.
Updating the Regulations for Section 504 of the Rehabilitation Act of 1973:
On May 6, 2022, the U.S. Department of Education's Office for Civil Rights (OCR) announced its intent to amend the regulations implementing Section 504 of the Rehabilitation Act of 1973 (34 C.F.R. pt. 104). Section 504 is a federal civil rights law designed to protect the rights of people with disabilities in public and private programs and activities that receive federal financial assistance, including schools and postsecondary institutions.
Section 504 states, "No otherwise qualified individual with a disability in the United States…shall, solely by reason of her or his disability, be excluded from the participation in, be denied the benefits of, or be subjected to discrimination under any program or activity receiving Federal financial assistance…." OCR is seeking comments from the public on how to improve the current regulations. OCR requests that long and more detailed comments be submitted by the end of June 2022 but states that all comments submitted before any notice of proposed rulemaking will be reviewed.
Plain Language:
Section 504 of the Rehabilitation Act of 1973 is an important civil rights law for people with disabilities. The U.S. Department of Education's Office of Civil Rights is trying to improve how the law works in schools, colleges and other education programs.
ABLE Age Adjustment Act
The Achieving Better Life Experience (ABLE) Act of 2014 created tax-free savings accounts for people with disabilities who acquired their disability before the age of 26. The money saved in ABLE accounts can be used to pay for qualified disability-related expenses such as education, housing, employment training, assistive technology and transportation. Money saved in an ABLE account will not impact eligibility for Medicaid and other public benefits. ABLE accounts are meant to supplement and do not replace private insurance, Medicaid or Supplemental Security Income (SSI) benefits. Before ABLE accounts, most people with disabilities who utilize public benefits did not have a way to save more than $2000.
The ABLE Age Adjustment Act (S. 331 and H.R. 1219) would change the age of onset criteria from age 26 to 46. According to the ABLE National Resource Center, "passage of this legislation would allow an additional 6 million or more people with disabilities to become eligible to open an ABLE account. This critical legislation would increase the financial security of people across the spectrum of disabilities without jeopardizing their much-needed public benefits."
Plain Language:
The ABLE Act lets people with disabilities who became disabled before age 26 to save money. The ABLE Age Adjustment Act would change the law so that a person with a disability before age 46 could have an ABLE account to save money.
STATE
The NC General Assembly is in session now but hopes to adjourn by early July. As expected, there has been discussion and some action on Medicaid Expansion. North Carolina is only one of 12 states that have not expanded Medicaid. Expanding Medicaid in North Carolina would allow the state to provide healthcare to 500,000 more people – this includes about 150,000 people with mental health or substance use issues. This could free up more state resources for people with intellectual and other developmental disabilities (I/DD).
During this short legislative session, the Senate has passed a medicaid expansion bill: H149, Expanding Access to Healthcare. While it is exciting to see a bill go forward in the Senate, there are some parts of the bill that are of concern and may keep it from being considered in the House. One aspect of the bill would set up a work requirement for the new beneficiaries, something that's been repeatedly struck down in other states by federal judges. Another section in the bill would make it possible for advanced practice nurses such as nurse practitioners, nurse midwives and certified registered nurse anesthetists (CRNAs) to practice without having a contract with a physician for their supervision. Medical providers oppose this part of the bill.
While seeing the Senate pass this bill indicates progress toward Medicaid Expansion, the House is unlikely to pass a Medicaid Expansion bill during this short session. What is more likely is that the session will adjourn without passing this. There is talk of coming back in the fall for a special session to address Medicaid Expansion.
Care4Carolina has a website with good information about Medicaid Expansion. https://care4carolina.com
Plain Language:
Legislators are working on increasing the number of people in NC who can get healthcare through Medicaid. This could help people with disabilities. Not all legislators agree on how to do this, so they may have to come back together in the fall to work on this.
The North Carolina Employment Collaborative: Work Continues Beyond the Grant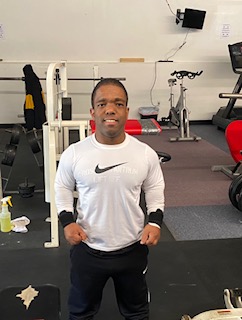 Blaze Foster is a Paralympic weightlifter and one of several self-advocates who appear in the NCEC training videosThe North Carolina Employment Collaborative (NCEC), funded by the North Carolina Council on Developmental Disabilities (NCCDD) from March 2019 through February 2022, continues to lead the way in employer education for disability inclusion.
NCEC was originally established as a Collaborative Council to guide the formation of regional Business Advisory Councils, aligning with the North Carolina Unified State Plan mandated by the Workforce Innovation and Opportunity Act (WIOA), to be convened by 23 NCWorks Career Centers across the state. In early 2020, COVID-19 forced the country to shut down, resulting in the highest unemployment rate in the United States since the great depression.
Yet, through a Collective Impact approach, partner agencies led by Disability:IN North Carolina (DI-NC) moved swiftly to pivot to virtual meetings and transform the project deliverables to building a legacy of virtual training tools based on the NCEC Council survey, completed prior to the pandemic. Partner agencies, including the NC Department of Commerce, the NC Department of Health and Human Services and the NC Community Colleges, local Workforce Development Boards, businesses leaders, community employment agencies and stakeholders with disabilities, worked to develop strategies to expand employment opportunities for citizens with disabilities in all regions of the state.
The resulting training tools included an introductory video that includes self-advocates, business leaders and representatives of the NCEC Council; a web-based toolkit of free resources for NCWorks Career Center Staff, businesses and stakeholders with disabilities seeking employment; and a free webinar training series developed in partnership with the NCWorks Training Center Staff which can be found here.
The initial series of seven training webinars was an enormous success. A total of 269 participants took part in one or more of the webinars with 69 percent rating the sessions excellent and 29 percent good.
DI-NC and the NCEC Council are continuing their collective work with quarterly meetings of the partnering organizations, regular updates to the toolkit and new opportunities to collaborate with NCWorks on future training webinars and events.
Visit DI-NC.org to access the video, toolkit, and training webinars.
NCCDD Annual Awards Open for Nominations
Nominations for the 2022 North Carolina Council on Developmental Disabilities' (NCCDD) Advocacy and Leadership Awards are now open. The awards honor the significant contributions made by advocates throughout the state who are actively working to change attitudes and support greater choices and build a more inclusive North Carolina for people with intellectual and other developmental disabilities (I/DD).
The Council seeks nominations from individuals and organizations across the state of North Carolina. The awards include:
The North Carolina Leadership Achievement Award which recognizes an outstanding North Carolina self-advocate whose work has improved the quality of life for people with I/DD.
The Jack B. Hefner Memorial Award that honors family members or volunteers who are advocating and building a better North Carolina for people with I/DD.
The Helen C. "Holly" Riddle Distinguished Service Award recognizes professionals who have made lasting contributions towards improving opportunities, breaking down barriers and promoting increased quality of life for people with I/DD in North Carolina.
The nomination process is now open, and anyone can nominate or apply for an award through July 30. The winners will be announced on November 2 at the NCCDD Quarterly Meeting in Cary, NC.
To learn more and to apply, visit the website: https://nccdd.org/the-council/advocacy-and-leadership-awards.html
Audio - Highlights and Hot Topics